25 Best Free Crochet Afghan Patterns
No matter if you're just starting your crochet journey, or have been crocheting for decades, this post is for you. Here you will find the best crochet afghan patterns as well as free crochet blanket patterns for all skill levels. Grab your crochet hook and try making a gorgeous blanket today.
Find the free crochet patterns below and don't forget to follow us in our Facebook Group and Pinterest for creative ideas!
Choosing a Crochet Blanket Size
Crochet blankets come in all shapes and sizes. Common crocheted blanket sizes include tiny baby blankets, medium-sized throw blanket, as well as big crochet afghans and king-sized bedspreads.
Each of these types serve a different purpose, so firstly decide what your needs are.
Consider what this crochet afghan will be used for – to cover up an entire sofa, or to snuggle in with a loved one? To keep your baby warm on stroller walks or to use it as a playmat? Answer these questions and the choice will be easier.
Easy Crochet Blanket Patterns for Beginners
As I've mentioned before, the best crochet afghan patterns for beginner crochet adepts will be quick and easy baby blankets.
Why? First of all, small crochet blankets are much quicker to make; and the same goes for chunky yarn weight. Simple blanket stitch in a repeatable pattern is easy enough to learn and memorize after a few rows.
The Best Free Crochet Afghan Patterns
Here you will find our selection of the best crochet afghan patterns, crochet blanket patterns and baby blanket pattern ideas. Many of these afghan patterns are suitable for beginners, as they include basic crochet stitches. Grab your crochet hook and try one of them today.
1. Modern Granny Afghan
This crochet afghan pattern is a contemporary take on the classic granny stitch pattern. We've seen a lot of granny-style blanket patterns, but this one really stands out. Amazing gradients, geometric patterns, and bold use of color are the core of this design. Grab your crochet hooks and try it today – it's one of the easy afghan patterns.
Level: upper beginner Author: Jeanne Steinhilber

Find this free pattern on thecrochetcrowd.com, or read more on ravelry.com. Info about this version is on ravelry.com.
2. Little Boy Blue Baby Blanket
Your baby is surely going to fall in love with this blanket, because it's a classic. We adore the color palette Milly Makes went for, but what will your choice be? This pattern is a variation on the famous Hugs and Kisses Blanket. You can read more about it here!
Level: upper beginner Author: The Crochet Crowd/Milly Makes

3. Blackberry Bramble Blanket
Wow, this blanket pattern is so classy! Who doesn't like to crochet a fancy accessory every now and then? We all probably do! The simplicity of this pattern by Liz de Moll as well as the delightful color palette make the blanket look so sophisticated.
Level: upper beginner Author: Liz de Moll

4. Fireside Blanket
This is a perfect crocheted afghan for you to take camping and to wrap yourself with during long chilly evenings. They will come sooner than we think! We love the warm shades of burgundy and cream Christine Blue chose, as well as the wonderfully chunky texture.
Level: upper beginner Author: Christine Blue

Find this pattern on spottedhorsedesignco.com, or read more on ravelry.com.
free lacy crochet blanket patterns
5. Lux Bamboo Baby Blanket
A pretty baby blanket with a pretty edge is one of our favorite crochet projects. If you are looking for an elegant gift for a baby shower or a birthday party, you have just come upon an ideal pattern. You will certainly be remembered as the most talented auntie thanks to your crocheting skills!
Level: upper beginner Author: Tine Sommer Hansen

6. The Picket Fence Baby Blanket
What a wonderful crochet pattern by our beloved Daisy Cottage Designs. If you are one of these crocheters who just need to learn one stitch after another, you are surely already familiar with this author's site. Easy crochet patterns in the best color combinations!
Level: upper beginner Author: Daisy Cottage Designs

7. Irish Accent Afghan
Even if you do not have that much experience with crochet hooks and blanket yarn, you won't have problems following this crochet pattern. Irish lace blanket pattern by Yarnspirations is easy to follow, but the motivation is key!
Level: upper beginner Author: Yarnspirations

Find this free pattern on yarnspirations.com.
8. Which Way Filet Blanket
This is such an inspiring free afghan pattern. Different crocheters keep coming up with their own color palettes for it, but we adore Heather's creativity. Easy afghan crochet patterns are her forte, so check the links to get even more inspired.
Level: upper beginner Author: The Patchwork Heart

Crochet Afghans made with squares free patterns
9. Hygge Burst Blanket
Take a look at this wonderful granny square blanket pattern made of floral crochet granny squares. If you are constantly looking for timeless cozy blanket patterns for afghans and throws, you will certainly appreciate this idea by NautiKrall by Mallory. Isn't this one of the most charming granny square projects ever?
Level: upper beginner Author: NautiKrall by Mallory

Find this free pattern on nautikrallcrochet.com, or read more on instagram.com.
10. Northern Diamond Square
This is such an awesome square-based blanket. It's colorful, cozy, and warm, and it will keep you company all year round. If you need more inspiration for blankets, afghans, and more, follow the Instagram of Trisha Ramos.
Level: upper beginner Author: Trisha Ramos, trishs_peaceful_crochet

11. Willow Square
This project by Healing Hook Crochet is stunning. We fell in love with this author's Instagram feed and it's time for you to do the same! If you are a fan of decorative squares, you definitely need this free crochet afghan pattern in your library.
Level: intermediate Author: Healing Hook Crochet

crochet hexagon blankets free patterns
12. Noëlle Blanket
This cool-toned rainbow gradient takes our breaths away. We all certainly admire Kirsten Ballering's creativity and exceptional crochet skills, but this blanket pattern is more than we could imagine. If you are looking for a big project for winter, this is certainly it.
Level: intermediate Author: Haak Maar Raak

Find this free pattern on haakmaarraak.nl, or read more on ravelry.com.
13. Hexi Blanket
These colors are everything, so soft and so sweet. If you are a crocheting newbie, you certainly need this pattern by Emily Bolduan. It will be an awesome opportunity to learn a must-have technique and to experiment with color palettes. Grab your crochet hook and try it.
Level: beginner Author: Emily Bolduan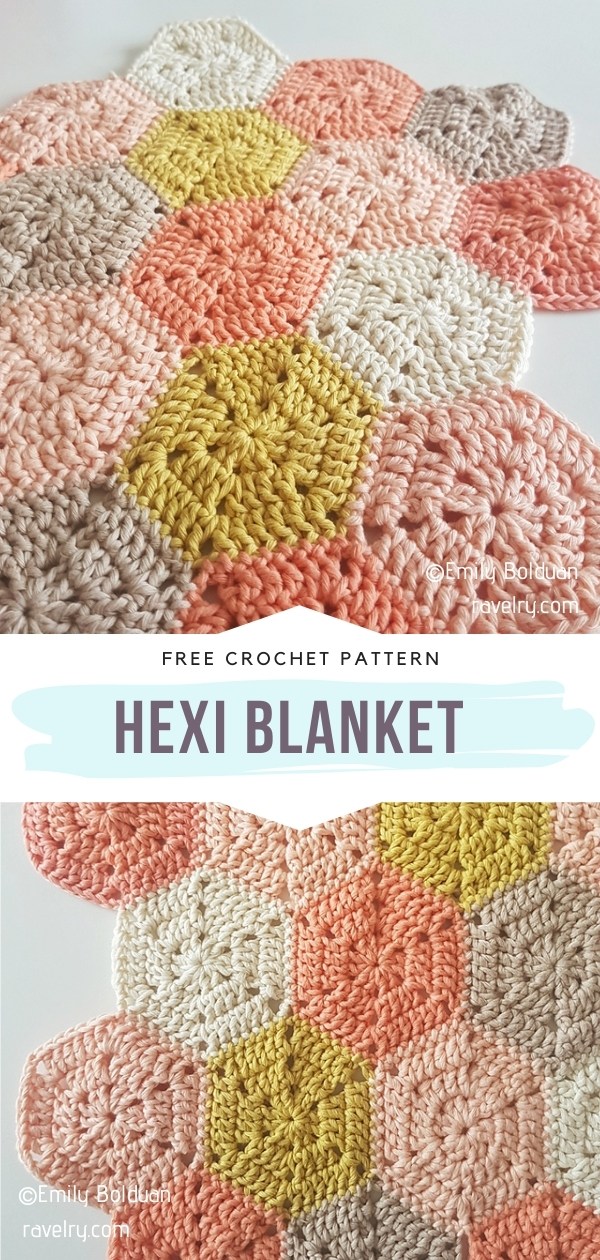 14. Honeybee Hexagons
Hello there, crocheting newbies! Are you in the hexagon mood today? If you are looking for your first pattern of the kind, Sanda Paul has got you covered.
This brilliant designer has written a foolproof pattern and prepared some charts for us. What color will your first hexagon be?
Level: beginner Author: Sandra Paul

Find this free pattern on sandra-cherryheart.blogspot.com, or read more on ravelry.com.
Flower crochet blankets free patterns
15. Tulip Blanket / Flowers In A Row
Have you already crocheted some tulips this spring? If you haven't, this is a perfect opportunity. We bet that once you learn this wonderful crochet stitch, you will keep coming back to it over and over again. See how Milly's Makes uses it first!
Level: intermediate Author: Milly's Makes

16. Sunflower Bloom Blanket
Pure charm and a touch of luxury. This afghan pattern by brilliant Sian Brock evidently has it all. The author created it to celebrate the breathtaking beauty of wildflowers.
Now you can reinterpret this piece using any color palette you want. Are you already imagining your dream blanket?
Level: upper beginner Author: Sian Brock

17. Spoke Flower Blanket
What a charming star-shaped afghan pattern. It is certainly great for children's bedrooms because it looks like it was taken straight from a fairytale.
If you are a beginner, don't get intimidated! This design is waiting for you, so start crocheting today. Star-shaped crochet blankets rock.
Level: upper beginner Author: The Crochet Fix

The original free crochet pattern is on
ravelry.com. Info about this version by Three Oaks Crochet and the photos are on ravelry.com.
18. Puff Flower Blanket
If you are thinking about your first project based on puff stitch flowers, we strongly recommend using this genius pattern for it. It is explained in detail and super attractive. You can make a blanket, a warm scarf or a set of potholders.
Level: upper beginner Author: marifu6a

Find this free pattern on marifu6a.com, or read more on ravelry.com.
mosaic crochet blanket free patterns
19. Peach Azalea Blanket
Wonderful colors of fall in a wonderful afghan pattern. If you are a crocheter with some experience looking to expand your repertoire of crochet stitches, this pattern by Premier Yarns is definitely for you. Will you use the same color palette?
Level: intermediate Author: Premier Yarns

20. Evergreen Mosaic Blanket
The mosaic motif never goes out of style, does it? The same is true in regard to seasonal blankets for winter. If you need an idea for an awesome handmade gift, follow the work of the awesome designers behind Yarnspirations.
Level: upper beginner Author: Yarnspirations

21. Montana Throw
We are super grateful to the awesome team of Premier Yarns Design Team for this one-of-a-kind crochet pattern. It is an evergreen, no doubt about it! Anyone could use an elegant, chunky throw in their living room.
Level: upper beginner Author: Premier Yarns

Find this free crochet pattern on premieryarns.com, or read more on ravelry.com.
Intricate afghan free Patterns
22. Alive CAL
This crochet along will make you feel alive even on the darkest, coldest winter day. And the afghan blanket you will crochet will make you so proud of your determination and crochet skills. All you need to do is follow Sandra McButton and try this crochet blanket pattern.
Level: upper beginner Author: Sandra McButton

23. Cloverlight Baby Blanket
Thick, warm, delightful – that's what we'd say about this afghan crochet pattern. All the expecting mommies and daddies surely need a couple of handmade baby blankets for when the baby arrives. This crochet pattern just released by Ausqueakan will be super useful.
Level: upper beginner Author: Ausqueakan

Tunisian crochet afghans free patterns
24. Amber Afghan
A fringed blanket of our autumn dreams is here. This wonderful crocheted afghan by Toni Lipsey is worked on the bias and has a genius color palette for this time of the year. You can of course customize the shades and adjust the size to your family's needs. This project uses worsted weight yarn.
Level: upper beginner Author: Toni Lipsey

Find this pattern on tlycblog.com, or read more on ravelry.com.
25. Elsam Blanket
We know we have many fans of easy Tunisian crochet here, so this crochet pattern by Miroslava Mihalkova is a special surprise for you. We are sure it will land high on your list of go-to blanket patterns. Learn how to crochet a blanket with Tunisian crochet and explore new realms of your favorite craft.
Level: upper beginner Author: Miroslava Mihalkova

Find this pattern on exquisitecrochetuk.com, or read more on ravelry.com.

FAQ
Are there free crochet patterns for afghans with basic crochet stitches only?
Sure! Many beginner crochet projects and simple crocheted blanket patterns use one or more basic crochet stitches. Double crochet stitch or single crochet often accompany unique crochet stitches. This way crocheted blankets are not only easier and quicker to do, but also make the finished blanket look more interesting.
How long does it take to crochet a blanket?
The time you need to spend on your project depends heavily on a couple of aspects:
types of the crochet stitches used
the intended size of the afghan blanket
what size crochet hook you use and the yarn weight
the type of blanket yarn you use
your personal crocheting style and speed
Completing a crochet blanket pattern may take as little as a few hours to as long as few months working on it day-by-day. Colorful crochet blankets may require additional time spent on weaving in ends, blocking and finishing it.
If you need a quick project, go for an easy blanket pattern that uses chunky yarn weight and a big crochet hook. The fastest crochet afghan to make is the one that doesn't require peeking into the pattern constantly.
How Many Skeins of Yarn Do You Need to Crochet an Afghan?
The exact amount of yarn needed for a crocheted afghan depends on the project type and its size. Small ones (baby blanket size) may use as little as 2 or 3 skeins of bulky yarn, while big throw blankets may require tens of yarn balls.
The lighter the yarn weight and hook size, the more you'll need, and vice versa. Bulky yarn makes a throw blanket work quicker and requires bigger crochet hook.
If you're still wondering how many skeins you need for your project, take a look in the pattern notes. Most crochet patterns give specific list of yarns and tools you need.
What is the Best Crochet Stitch for a Blanket?
If you're into easy crochet blanket patterns and want a quick make, choose the ones with simple crochet stitches, such as double crochet stitches, single crochet or half double crochet stitches.
There's no such thing as 'the best stitch pattern', because it all depends on the design. Some stitch patterns are suitable for the projects, while others are not.
Many crocheted afghans combine basic crochet stitches with more complex ones. Not only does it look great, but also present a challenge for ambitious crocheters who want to learn.