Seed Motif Baby Sweaters – Free Knitting Patterns
These free knitting patterns for Seed Motif Baby Sweaters simply have it all! If you are looking for something cute but unusual, you have certainly come to the right place. We admire these two authors' creativity so much! The seed motif is minimalist, sweet, and very original. It makes us feel like it is summer already! After all, watermelons and strawberries are the symbols of hot sunny days, right? Check out these free patterns under the links below and follow us on Facebook and Pinterest for more creative ideas!
If you need more inspiration, check out our collections of Bling Baby Cardis and Lovely Baby Tops.
Strawberry Seed Baby Sweater 
Free Knitting Pattern
Hello there, knitting newbies! The author of this adorable baby sweater pattern claims that it is a perfect challenge for adventurous beginners. Do you feel up to it? Without a doubt! We bet you would do well! Is there a special little baby strawberry in your family that will enjoy wearing this handmade wonder?
Level: upper beginner Author: Knitting with Chopsticks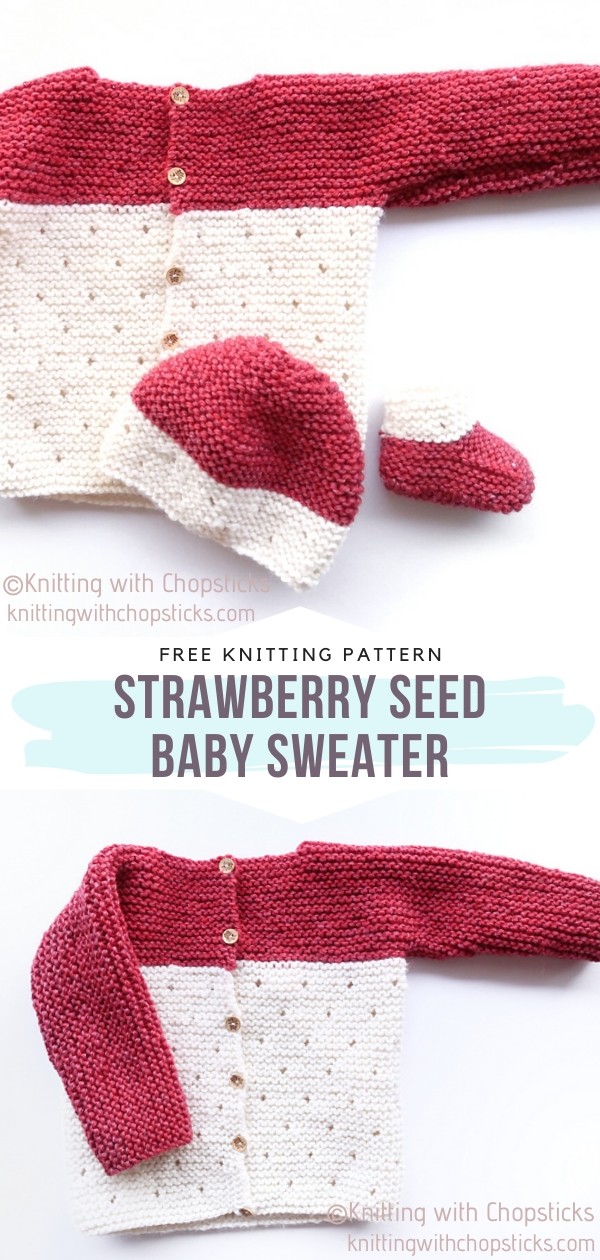 The original pattern and the photos are on knittingwithchopsticks.com. More info on ravelry.com.
Watermelon Baby Cardi Free Knitting Pattern
Wow, how is that for a bold baby cardi? There is so much going on in this pattern we don't even know where to start raving about it! The eye-catching colors, the one-of-a-kind seed pattern, the buttons…we could go on forever! So lovely, isn't it?
Level: upper beginner Author: Katarzyna Tarasik

The original pattern is on ravelry.com. Info about this version and the photos are on ravelry.com.