Lovely Crochet Cactus and Succulent Ideas and Free Patterns
Who needs a crochet cactus pattern? Yes, you've read it correctly! Nowadays, one can get really surprised by what kind of things people crochet. If you want to take a break from animal amigurumi, why not try something new instead?
With these designs for Potted Succulent Amigurumi, you can crochet a beautiful garden that doesn`t need watering at all. They`re pretty easy to make and different shades of green will work best. But if you want to crochet some flowers, make sure they are bright and colorful. Because these cacti are already in pots, they would be great gifts for teachers but also for anyone who appreciates plants but always forgets to water them.
Check out these free patterns under the links below and don't forget to follow us on Facebook Fanpage and Pinterest for more creative ideas!
If you need more inspiration, check out our collections of Plant Hangers and Animal Squares.
Crochet Cactus and Succulent Crochet Pattern Ideas
Cactus free pattern
Crochet cacti never get boring! If you're a fan of these adorable amigurumi crochet pieces, you can never have too many of them.
This cute cactus pattern designed by Firangiz will look nice when placed on desk or shelf in your room. Start with crocheting the pot, then the soil and the cactus itself. Finish by making the cactus flower, and voila!
Level: Author: Firangiz

photos by @firacrochets on Instagram: top, bottom
Find this pattern on instagram.com.
Crochet Cactus
Love crocheting arigurumi? This adorable crochet pattern of a little cactus by Fay Lyth makes a wonderful gift idea for a plant lover.
For those who don't have a green thumb, it will provide a great alternative to living plants. This one surely doesn't need watering! You can give the cactus flower any colour you like or follow the shades in the picture. Grab your crochet hook, and just give it a try!
Level: Author: Fay Lyth

photo by Fay Lyth / ravelry.com
Find this pattern on stitchbyfay.com, or read more on ravelry.com.
Succulent Topped Pumpkins
Any fans of succulents among our lovely readers? Without a doubt! This pattern by Leticia Lebron is such an awesome combination of modern and seasonal decor.
We know that the indoor plant trend is so huge right now. The pumpkin season is coming soon too! Crochet your set right now.
Level: upper beginner Author: Leticia Lebron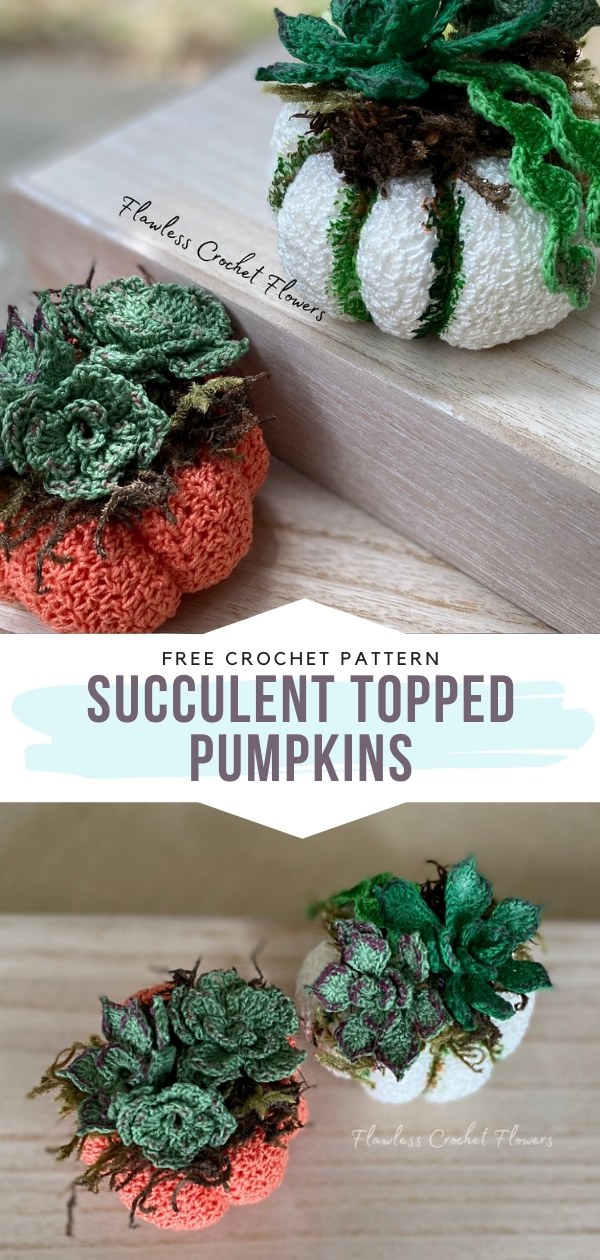 The original pattern and the photos are available on Flawless Crochet Flowers. More info on Ravelry.
Succulent Kawaii Cuddler™
Are you wondering how to express your love for mother nature? Cuddle this awesome crochet gem! The cactus family is playful and irresistibly cute. Make one for yourself and keep the pattern in case of an unexpected birthday party.
Level: intermediate Author: Donna & Michaelene

The original pattern and the photos are available on 3 AM Grace Designs. More info on Ravelry.
Cactus Garden
You will have plenty of fun making this beautiful garden. It features five different plants and a pot with soil in it. It looks unbelievably realistic and will certainly stay in your house forever in perfect condition. No watering needed!
Level: intermediate Author: Artefacts Crochet Design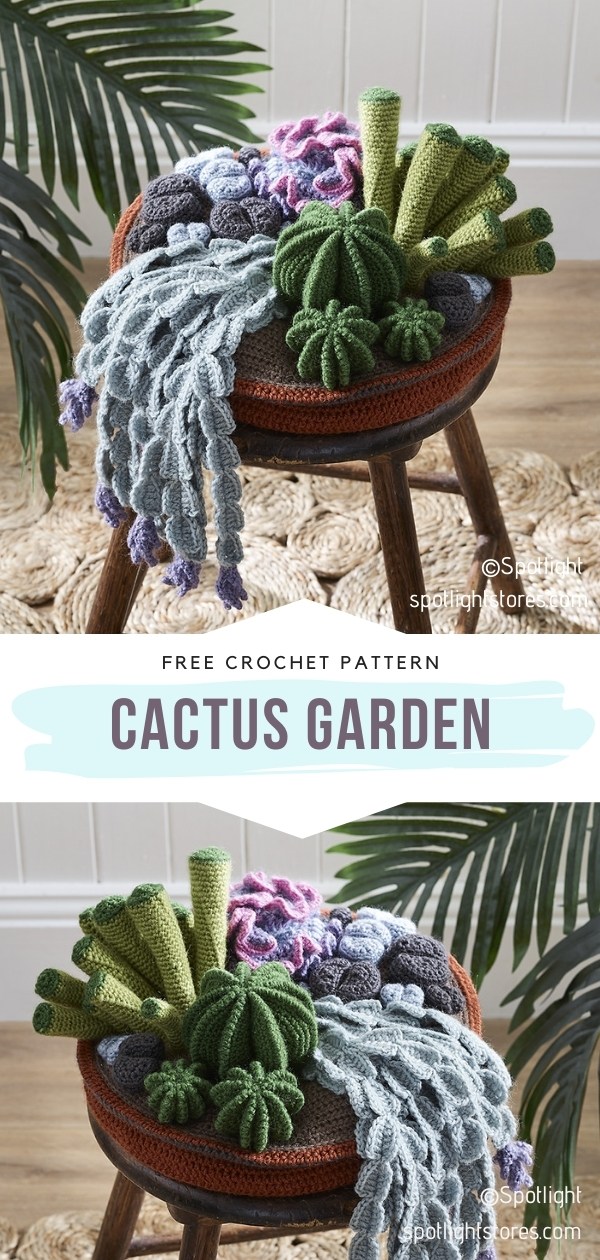 The original pattern and the photo are available on Spotlight Stores. More info on Ravelry.
Cactus Free Crochet Pattern
Making the world around look pretty has never been easier! There are a few different shapes and color versions of these plants, but you will surely love crocheting them all. You can decorate your cactus with colorful flowers for an even more cheerful look.
Level: uppper beginner Author: Yarnplaza.com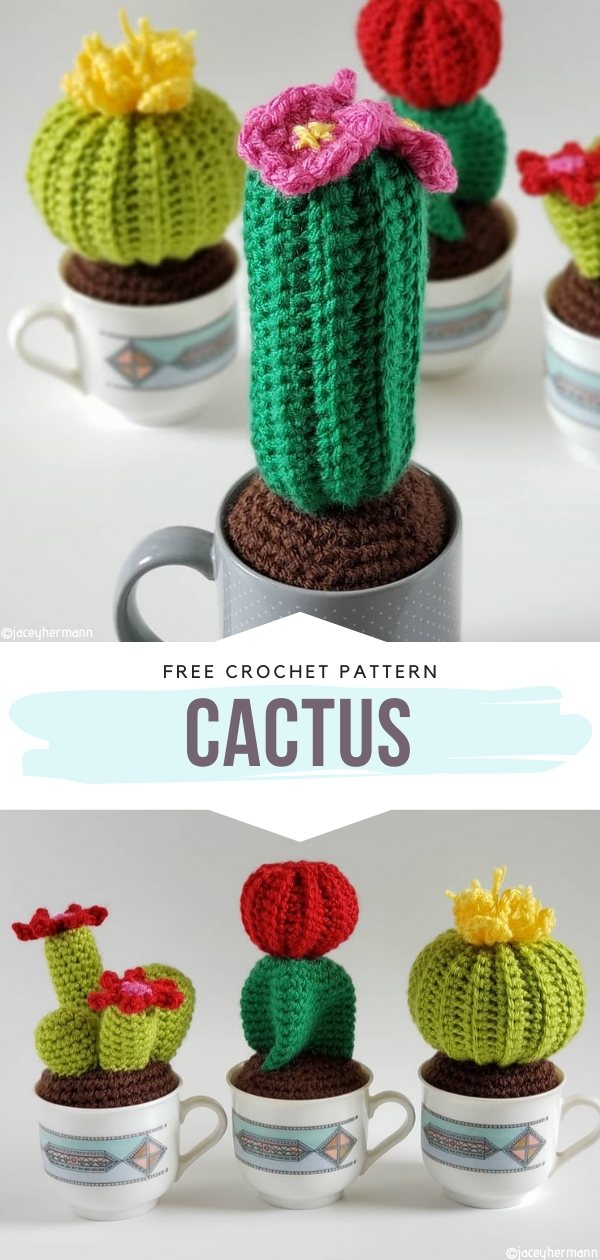 The original pattern is on Yarn Plaza. More info on Ravelry. Info about this version and the photos are on Ravelry.
Crochet Succulent String of Pearls
Houseplants are taking over the internet and the world! The succulent called String of Pearls is certainly among the most desired types. If you want to crochet a wonderful for your favorite plant mommy or daddy, follow the pattern by Moara Crochet!
Level: intermediate Author: Moara Crochet

The original pattern and the photo are available on Moara Crochet.