You can get really surprised by what kind of things you could crochet. If you want to take a break from animal amigurumi, why not try something new instead? With these designs for Potted Succulent Amigurumi, you can crochet a beautiful garden that doesn`t need watering at all. They`re pretty easy to make and different shades of green will work best. But if you want to crochet some flowers, make sure they are bright and colorful. Because these cacti are already in pots, they would be great gifts for teachers but also for anyone who appreciates plants but always forgets to water them. Check out these free patterns under the links below and don't forget to follow us on Facebook Fanpage and Pinterest for more creative ideas!
If you need more inspiration, check out our collections of Don`t stop on one! Amigurumi Ideas and Curly Jellyfish Amigurumi.
Succulent Kawaii Cuddler™ Free Crochet Pattern
Are you wondering how to express your love to mother nature? Cuddle this awesome crochet gem! The cactus family is playful and irresistibly cute. Make one for yourself and keep the pattern in case of an unexpected birthday party.
Level: intermediate Author: Donna & Michaelene
You will find the pattern here. More info here. 
Cactus Garden Free Crochet Pattern
You will have plenty of fun making this beautiful cacti garden. It features five different plants and a pot with soil in it. It looks unbelievably realistic and will certainly stay in your house forever in perfect condition. No watering needed!
Level: intermediate Author: Artefacts Crochet Design
You will find the pattern here. More info here and here. 
Cactus Free Crochet Pattern
Making the world around look pretty has never been easier! There are a few different shapes and color versions of these plants, but you will surely love crocheting them all. You can decorate your cactus with colorful flowers for an even more cheerful look.
Level: beginner Author: Yarnplaza.com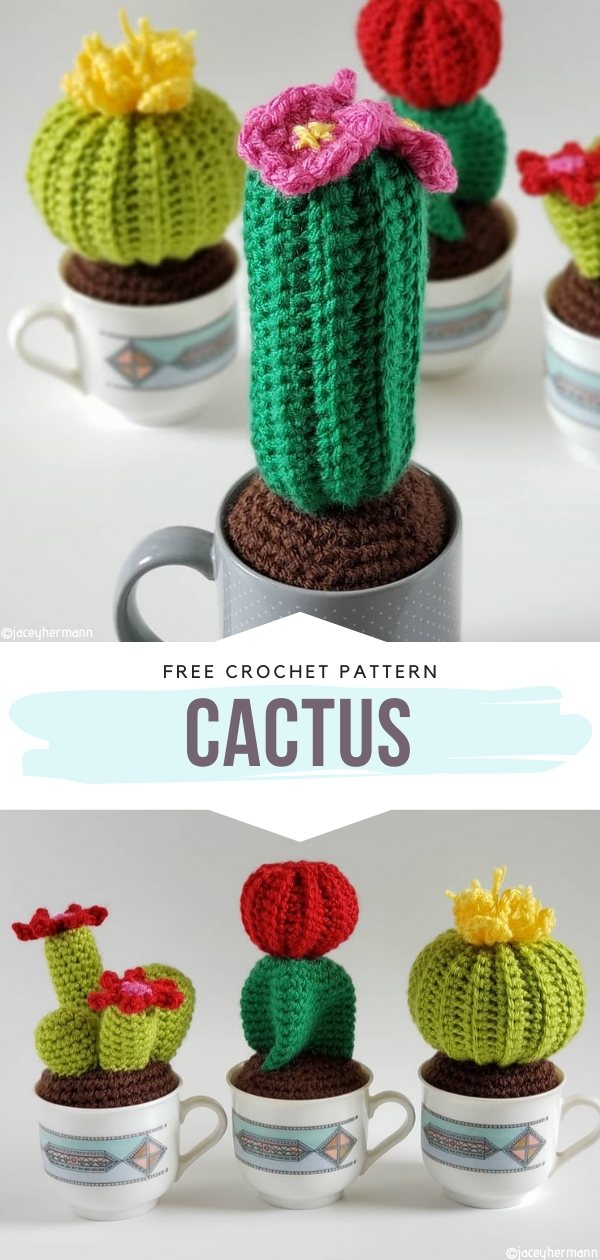 You will find the pattern here. More info here and here.