Crochet Edgings For Shawls Free Patterns
We are talking about crochet patterns for shawls today, people! When it comes to finishing your project, crochet shawl edging is the last piece of a puzzle that completes the design. Not only does it clean up the border but also gives it that special touch.
If you take a look at these Shawls with Stunning Edging, you will surely agree with us. You can choose a very basic pattern, and if you add the trim, you will create an outstanding piece. It doesn`t have to be intricate but get creative with simple shells or puff stitches. They will also add extra texture.
Moreover, you can play with different colors of crochet edgings for shawls. For example, go for contrasting shades or choose one color that will compliment your crochet shawl. The finished accessory will be a stylish and elegant addition for any occasion, so get your hooks ready and start crocheting.
To get a hang of crocheting borders, start simple. Make a granny square and add a double crochet edging to it. Check out these free patterns under the links below and follow us on our Facebook and Pinterest for more creative ideas!
If you need more inspiration, check out our collections of Edging Ideas and Lace Flower Edging.
Vibrant Virginia Shawl
Minimalism and girly charm, what a lovely combination! If you are looking for a versatile accessory to complete your autumn outfits, you surely know what to do now. Follow Wilma Westenberg's instructions because they are always top-notch.
Make sure to choose a color palette you love. Would you go for ombre yarn, or try a solid color, just like Wilma did? This elegant shawl would be a stunning gift as well, so consider the favorite shades of your loved ones.
Level: upper beginner Author: Wilma Westenberg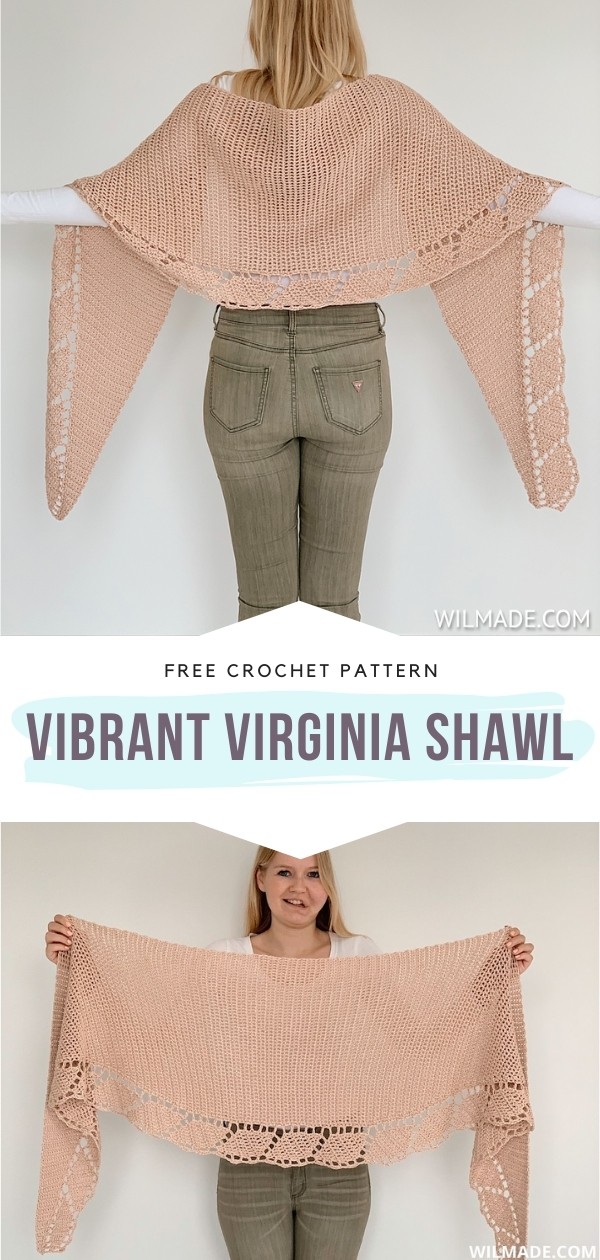 Find this pattern on wilmade.com, or read more on Ravelry.
Unforgettable Lunar Crossings Shawl
This crochet pattern for a delicate triangle shawl will be an elegant addition to every wardrobe. It uses basic stitches with more intricate trim edging. You will surely love crocheting this shawl in your favorite gradient. Go for a solid color if you prefer – it will also show off this gorgeous design.
The best thing about using multicolor yarns is the ease of use. You don't have to change up the yarn skeins and hide the loose ends. No mess, only fun – because there's nothing better than watching the colors flow as you crochet.
Level: upper beginner Author: Kim Guzman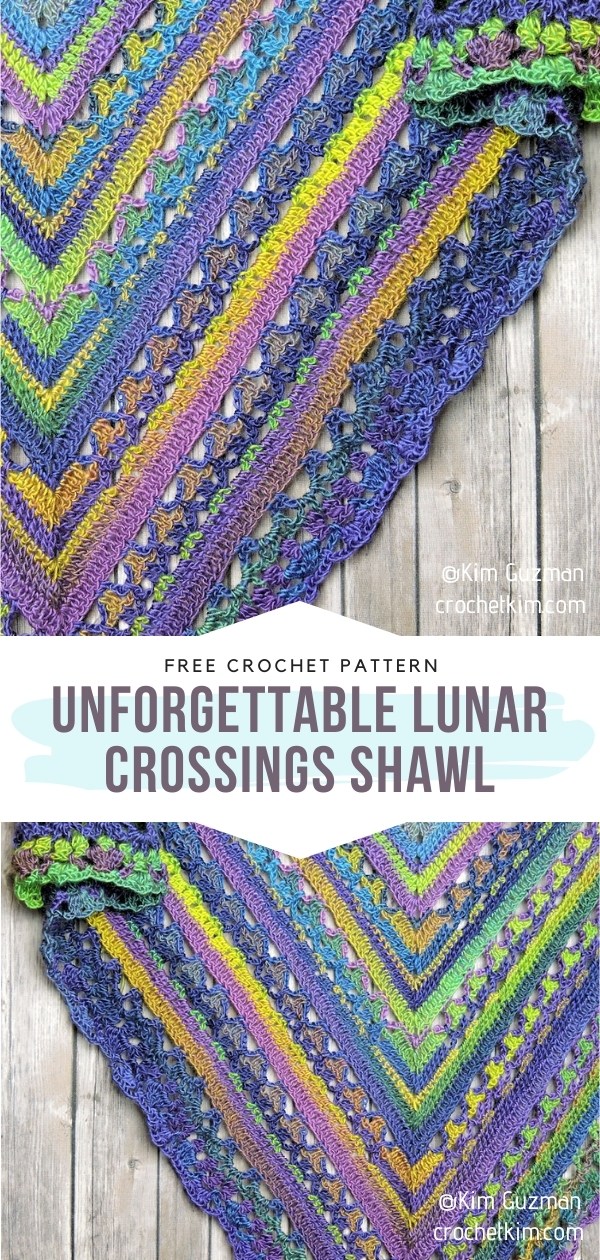 Find this pattern on crochetkim.com, or read more on Ravelry.
Tropicana Scarf
This beautiful scarf will work equally well for summer and fall. Karin keeps things interesting by alternating triple crochet and single crochet stitches. Of course, the project wouldn't be as stunning without the border.
That's why this free crochet pattern is so charming! The crochet border pattern is the perfect finishing touch. In fact, you can use it in many other projects – baby blankets, table runners, clothing. Once you learn one technique, you can then add it to other designs.
Level: upper beginner Author: Karin Åshammar/Virklust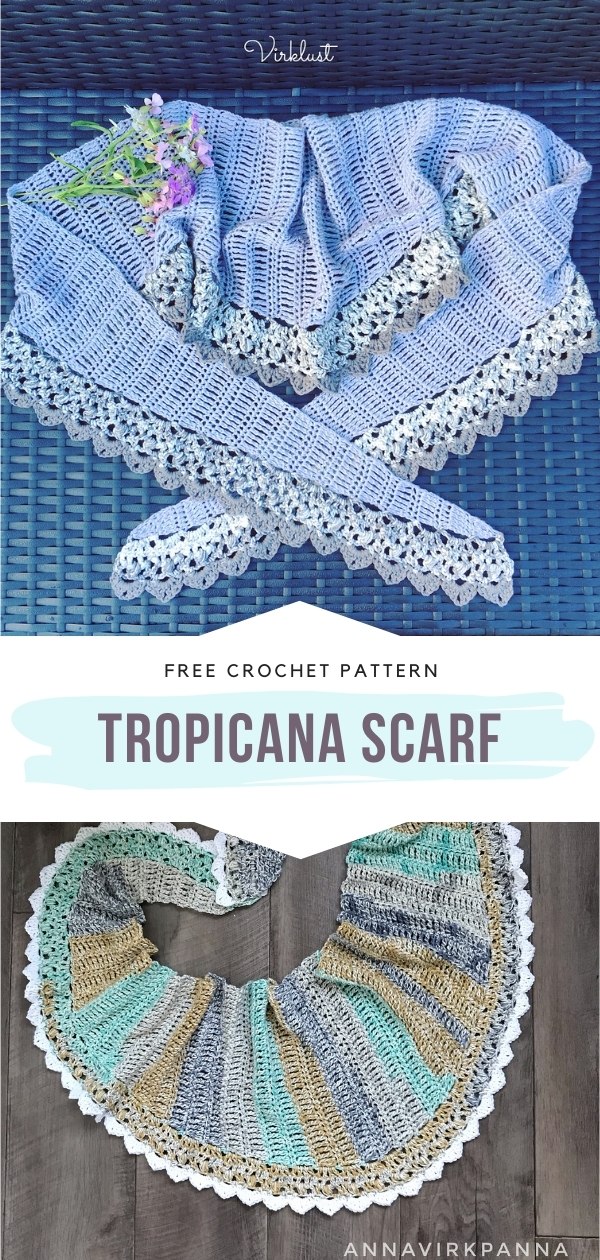 Find this pattern on
virklust.wordpress.com, or read more on Ravelry.
Waves for a Friend
What a fabulous color – so feminine and mysterious, right? Even if you are not a fan of violet, you can crochet a beautiful shawl with this pattern by Shelley Williams. This accessory will certainly look stylish in every shade, thanks to these decorative waves.
You can totally transform a simple shawl by adding extra stitches on the edges. While many crochet borders and edgings are very decorative, this wavy stitch border evokes nothing but elegance.
Level: intermediate Author: Shelley Williams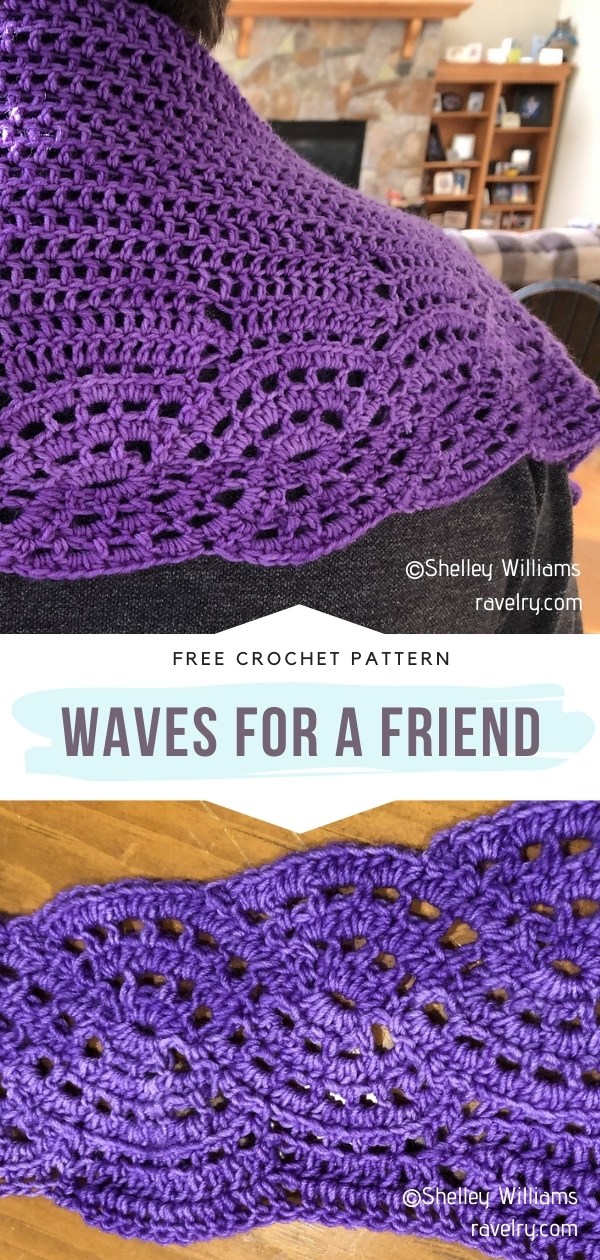 The photos are on Ravelry. The pattern is in the comment section on Ravelry.
Oak of Life Shawl
Inspired by old oaks, this crochet project will be a delight for all nature lovers and romantic souls. The texture is one of a kind and so are the floral motifs. This finishing is no boring crab stitch.
As you can see, the lacy stitch edging is a piece of art on its own. If you want to make your version of this gem, follow the instructions of Agneta Nauclèr.
Level: upper beginner Author: Agneta Nauclèr

Find this pattern on
meandmyyarn.me, or read more on Ravelry. The bottom photo is on Instagram.
The Peafowl Feathers Shawl
A real work of art crocheted by the one and only Veronika Cromwell! Inspired by mother nature and her amazing creations, this crochet pattern is a great option for spring and summer.
The shawl itself is quite simple, but its beauty lies in the original ornamental edging. I'm in love with Veronika's choice of colors because greens and blues are my favorites. However, the main question is – does it fit into your wardrobe?
Level: upper beginner Author: Veronika Cromwell

Find this pattern on
bluestarcrochet.com, or read more on Ravelry.
Mosaic Edge Shawl
A pretty edging for a pretty triangle shawl! Awesome crochet designers behind Yarnspirations Design Studio always give us the best techniques to work with. Once you learn this one, you will certainly keep coming back to it.
Mosaic crochet is one of the most creative crochet techniques and can create true works of art. Be sure to add it to your skillset.
Level: intermediate Author: Yarnspirations Design Studio

Find this pattern on yarnspirations.com, or read more on Ravelry
Sea to It Shawl
A miracle inspired by the underwater world designed by Sonja Otto! What impresses you the most about this crochet shawl? The beautiful shell stitch or the decorative edging? You certainly need to learn both of these techniques!
Level: upper beginner Author: Sonja Otto

Find this pattern on ilikecrochet.com, or read more on Ravelry.
Florescence – No longer free
Beginner-friendly and free for a limited time only! These are the two most important things you need to know about this crochet pattern just released by Expression Fiber Arts. You can be sure that the shawl you crochet will amaze everyone.
Level: upper beginner Author: Expression Fiber Arts

Find this pattern on expressionfiberarts.com, or read more on Ravelry.