Best Knitting Looms – Overview, Tips and Tricks
Welcome to the magical kingdom of loom knitting and the Best Knitting Looms! Are you ready to become a loom knitter?
Recently, we have talked about Best Knitting Needles (if you have missed that somehow, we definitely recommend catching up!).
We discussed straight needles, bamboo knitting needles, fixed circular needles, single pointed and double point needles. We also covered every needle size and knit fabrics you create with different tools. You will find tips on knitting needles for beginners there too!
Today, we are exploring a totally different topic. One that will interest knit lovers of all skill levels. You will probably be interested in it even if you are still a beginner. Expert knitters will enjoy experimenting with it too!
In this post, you will find some precious tips on how to choose the best knitting looms. There is also a decent portion of valuable knowledge about this technique for beginners. We think it is time to dive in!
If you have never heard of these tools, you are in for so much fun. And a fascinating discovery!
The fantastic land of knitting is huge and so diverse – there are so many things we can all still learn and have plenty of fun with.
Follow us on Facebook and Pinterest for free crochet and knitting patterns and creative ideas!
If you need inspiration, check out: Cozy Knitted Socks and Delicate Knitted Headbands.
What Is Loom Knitting?
Loom knitting is a super interesting and fun alternative to knitting with needles. There is so much to love about it! Firstly, it is definitely easier on your wrists and hands.
Secondly, it can often be faster than traditional needle knitting. And finally, it is unbelievably easy to learn, not only for adults but for your little ones too!
Loom knitting lets us create even and smooth fabrics in an uncomplicated, efficient, and very pleasant process. You can make numerous projects like blankets, jumpers, hats, and scarves.
With the right type of loom, you can create intricate shawls, all kinds of cable lengths, mittens, socks, and even toys. If you have never tried this awesome technique before and you are feeling a bit lost, don't hesitate!
Choose your first knitting loom today and let the adventure begin.

Types of Knitting Looms
There are plenty of sizes, shapes, and materials to go through while choosing the best knitting looms for your needs. Don't get overwhelmed though, we have got you covered.
The shape of your loom and the number and size of pegs are crucial for the final effect of your knitting, that's why you need to make sure you have the right tools for the patterns you have on your to-try list.
Here are the most popular options:
Shapes:
round looms
long looms
adjustable looms (can be used both as round and long looms)
modular looms (customizable)
Gauges:
fine
small
regular
chunky
How to Choose a Knitting Loom?
Are you going to focus on single knitting, double knitting, or both? Have you thought whether you will knit flat or in the round? These are the questions you need to answer before you choose your looms.
Go for the option that gives you the biggest comfort and the most flexibility! Any loom can be used for single knitting in flat panels – we are thinking of blankets, dishcloths, or scarves here.
For socks, gloves, cowls, and other tubular shapes, you will need round looms with specific numbers of pegs. Double knitting is a totally different story – it requires long looms or knitting boards with two rows of pegs and a space in between them.
As you already know, looms come with different numbers, sizes, and spacing of pegs. There are many adjustable ones too! While picking your tools, you should definitely think about your desired gauge.
While thin, closely spaced pegs will give you fine fabrics, using larger ones will result in bulky knits.
You also need to remember that one peg always holds one stitch, therefore you need to have enough pegs on your loom if you are going for projects that require many stitches.
The patterns you work on usually tell you what looms to use and what kind of yarn to pick for them, so go through the patterns of your dreams before you buy your first loom. You will have a clearer idea of what your needs are!

Knitting Looms – Our Top Picks
Are you planning to knit a lot of afghans, blankets and throws?
This lightweight loom made of smooth plastic is going to become your best friend for sure. It is a regular gauge type shaped like the letter S. You will be able to use many stitches and knit pieces up to 60″ wide. Can you think of anything cooler?

Photo: amazon.co.uk
You are in for some serious fun with this one! The modular loom gives you all the flexibility you need to make your wildest knitting dreams come true.
You can adjust the shape to match every single project, chunky or thin! This option works both with single and double knitting.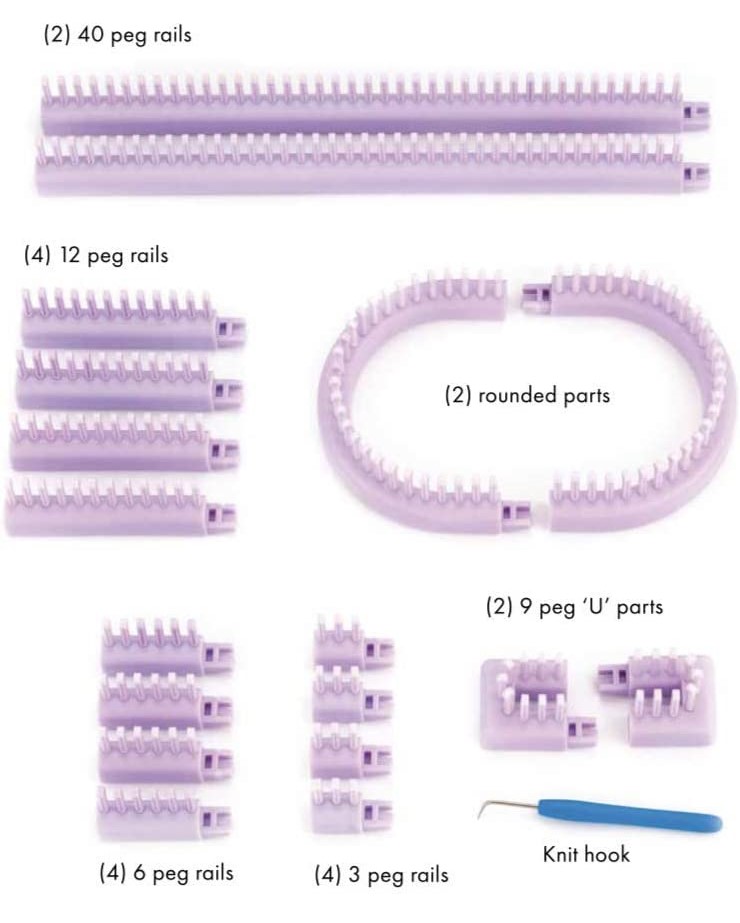 Here is one more option that gives you plenty of room for creativity! This loom can take any shape you need it to take, so you will never be limited while choosing patterns.
You can customize this small gauge loom using up to 96 pegs. There is of course also the option to create a couple of smaller looms with this set. Wise men and women say that sky is the limit!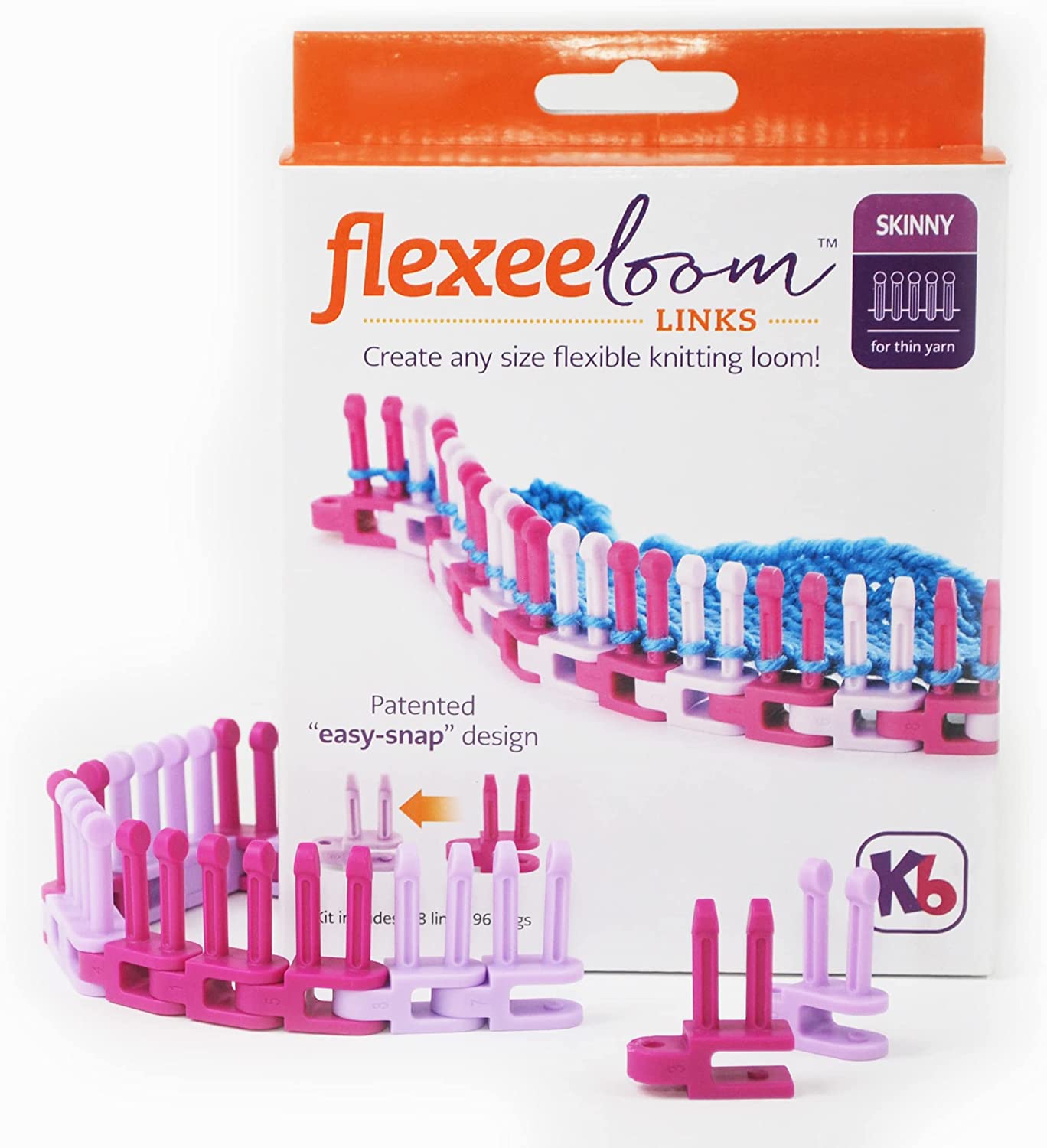 Let us finish this post with something extra, shall we? This is definitely not a traditional knitting loom or a traditional craft tool of any kind.
The machine creates i-cords for your projects in the blink of an eye. The process is effortless and easy!

Go find your loom knitting patterns! There is so much fun in store for you.