Have you already decided on the Best Knitting Needles for your needs? We understand how difficult it might be to find the right tools for your crafts, especially when you are a beginner! This is exactly why we have decided to guide you through the available options and share some tips with you. Let's explore!
Follow us on Facebook and Pinterest for free crochet and knitting patterns and creative ideas!
If you need inspiration, check out: How To Crochet Hat And Scarf? – Easy Patterns and Sweet Baby Knits.
What are the types of knitting needles?
If you are wondering how to choose the best knitting needles for your projects, there are a couple of factors you should take into consideration. Think about: different types of knitting needles, the materials they are made from, as well as sizes – lengths and widths – that will determine the gauge of your projects. All these should suit your level of experience and your needs for specific types of patterns and project dimensions. Why don't we look at the main types of knitting needles first?

Straight or Single-Pointed Needles
You will soon see that most knitting needles are straight – this is definitely the 'classic' type, suitable for numerous projects and all levels of experience. Straight knitting needles are used for flat knitting and are best for smaller, quicker, more lightweight projects like baby blankets, bandanas, washcloths, or scarves. This is because they hold all of your stitches at once and quickly get heavy while you work on bulkier, more complex projects. Remember that for larger projects, you are going to need longer knitting needles. Shorter ones are great for smaller projects.
Single-pointed needles prevent your stitches from sliding off thanks to a stopper at one end. The other type of straight needle is the double-pointed knitting needle, also known as DPNs. More on them below!
Circular Needles
Imagine two straight needles connected with a flexible cable that holds your stitches. Circular knitting needles are used for both flat knitting and knitting in the round. Many crafters say this is the most versatile type, suitable for the biggest range of projects. You can use your circular needles for socks and hats as well as for shawls and blankets.
Circular knitting needles are comfortable to use and super practical for bigger projects as they allow an even distribution of stitches. On top of that, the weight of the yarn is taken off your hands, which stops you from ever getting tired of knitting!

Double-pointed Needles (DPNs)
Double-pointed knitting needles are only used for knitting in the round. They are shorter than straight needles and have points on both ends. They are usually sold in sets of four or five so that you can have your stitches distributed over a couple of needles and use the remaining one to knit with.
Double-pointed needles require some level of experience but are perfect for small, seamless projects knitted in the round. We are thinking about gloves, socks, sleeves, hats, and many more!

Interchangeable Needles
Think about circular needles but with many more possibilities and perfect flexibility! Interchangeable needles also consist of two straight needles with a cord. However, unlike regular circular needles, these are detachable, so you can combine different lengths and sizes. If you want to use them as straight needles, just attach stoppers!
Your own set of interchangeable needles will give you plenty of room for creativity. You can customize it according to your needs and use it for a very wide range of projects. If you are already used to fixed needles, this tool might take some getting used to, but it will give you a lot of possibilities, no matter your level of experience.
Cable Needles
If you are interested in cable knitting, this is the right tool for you – just as the name suggests. You can knit cables and cable-like designs without dedicated needles, but they will certainly make your life much easier. Cable needles hold your stitches still while you move other stitches around them, creating the desired cable pattern. This means, of course, that they are never used on their own. This technique, although mostly used by more advanced crafters, is surely worth exploring at any point of your knitting journey!
How to choose the right material for knitting needles?
Why is it important to choose knitting needles made from the right material? It is not just about what your tools look like! Different materials will grip your yarn in different ways. Durability is also an important factor. Like all things in life, all options here have their pros and cons. Let's take a minute to explore.
Metal/Aluminium Knitting Needles
Smooth and slippery metal surfaces let your stitches move quickly and easily. This is a great option for more experienced knitters who like to work fast! On top of that, very durable. Remember to pick fabrics that do not require a strong grip from the needles. Metal won't catch fibrous yarns, which will make your life easier while working with hairy fibers.
Metal needles are of course colder and heavier than others – you must decide if they would feel comfortable enough in your hands.

Wooden Knitting Needles
Wood is probably the go-to material for many knitters. And for good reasons! Lightweight and warm on the hands, these needles give you the feeling of comfort as you knit. Different kinds are available on the market, so you can easily find the one you will enjoy the most.
Unlike metal, wood creates a bit of friction, so your stitches are less likely to move around or fall off. This is of course ideal for beginners. More advanced knitters who like to work faster might feel like the friction is slowing them down.
Bamboo Knitting Needles
Bamboo knitting needles are probably the most popular option among knitters who like the natural feel of wood. Light, quiet, and quite cheap, definitely recommended for newbies.

Plastic/Acrylic Needles
Plastic is less durable than metal or wood but at the same time lighter and cheaper. These needles have a slippery structure, so they will let you knit fast. On top of that, they are often available in large sizes and still remain lightweight, which makes them great for big and chunky projects made from thick yarn.
Carbon Fiber
Great for all yarn types, super lightweight, and very durable, carbon fiber is definitely gaining popularity among knitters. When it comes to friction, it is a middle ground between metal and wood – perfect for all levels of experience. If you often work on projects that require precision, you should certainly try carbon fiber needles. We are happy there are more and more affordable ones out there for everyone to try!
Best Knitting Needles for Beginners
If you are thinking about buying your first knitting needles, you are probably a bit confused because of all the available options out there. No worries, we have all been there! There are a couple of things you should think about before making a decision. First of all, consider the kinds of projects you will work on most often. As a beginner, you will probably focus on flat knitting and a limited number of stitches first. For that, you should invest in straight needles – they are easy to use and perfect for uncomplicated projects. On the other hand, if you are still not sure what projects you will choose most often, circular needles might be a great versatile option, because they are meant both for flat knitting and knitting in the round.
It is probably safe to say that wood and bamboo are the materials best knitting needles for beginners are made of. They are not as slippery as metal ones, don't require fast knitting, and, on top of that, feel warm and light in your hands.

Best Knitting Needles – Our Top Picks
Great quality and so many different options to choose from! ChiaoGoo offers a great line of single and double-pointed needles as well as classic circular and interchangeable ones. You can choose between stainless steel and wood/bamboo. Their Chinese bamboo is especially durable!
This is truly something special! If you are looking for the best knitting needles for children, this is definitely a great choice. Your little ones will surely fall in love with yarn crafts with these easy-to-handle needles. The heart-shaped tops are so adorable too!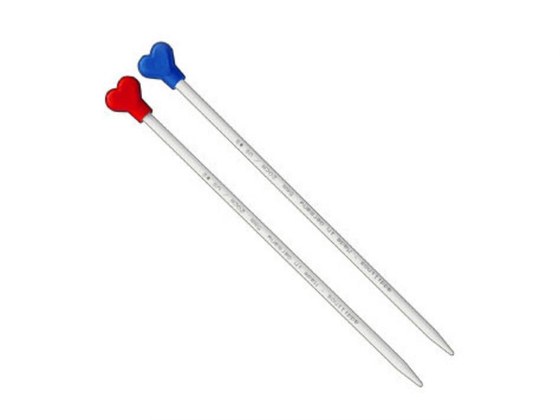 This is a really great deal! You do not need to spend a fortune and you are getting a pack of 4 20cm-long aluminum double-point knitting needles in great quality. This is an awesome option for everyone who would like to give knitting in the round the first try. Trust us, you will have so much fun!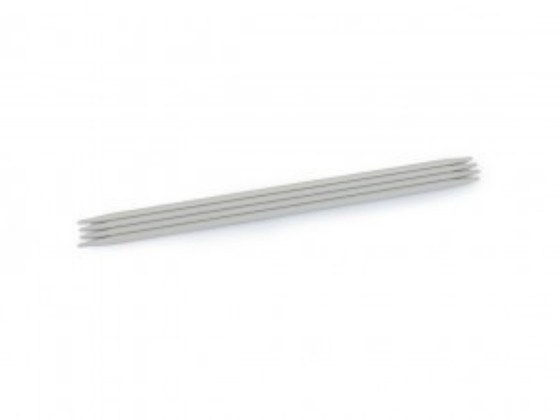 Lightweight needles with a smooth surface. You can be sure these bamboo wonders will never split your yarn! If you are looking into different kinds of wooden and bamboo knitting needles, you should certainly put these ones on your list to consider.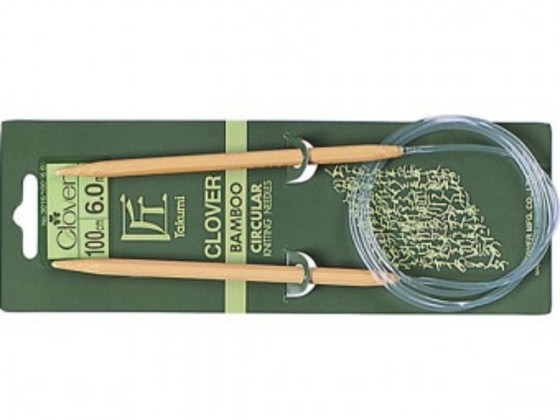 We have always admired this brand for combining quality with exceptional aesthetics! They offer not only an impressively wide range of knitting needles but also one-of-a-kind colors and designs. Something for connoisseurs!
One more option for all of you who need their needles to not only work but also look amazing! These extra-long circular needles have golden tips made from brass. The tips are perfectly thin – you certainly need them for knitting detailed, intricate patterns.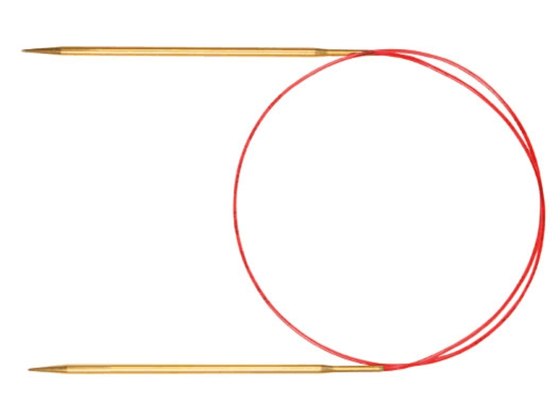 It is impossible to find a brand with a more adorable logo! If you know one, please prove us wrong. You can find a full range of tools and materials for knitters in this online store. The needles are super comfortable to use and the accessories are too cute to be true. Just take a look at their panda-shaped stoppers!