Winter Crochet Garlands – Free Patterns
Hello there, passionate homemakers! The time is coming quickly for all of us to start working on our Winter Crochet Garlands and other wonderful elements of handmade decor for the holiday season of 2022. For this reason, we have decided to inspire you with brand-new patterns for crochet garlands. They have classic Christmas motifs: Santas, gifts, and ginger biscuits. If you love all things adorable just like we do, you are certainly going to adore them. Crochet winter garlands are usually pretty easy to learn and do not require plenty of yarn. These cases are no exceptions! Give them a try, even if you already know you will get crazy busy.  Check out these free patterns under the links below and follow us on Facebook and Pinterest for more creative ideas!
If you need more inspiration, check out our collections of  Playful Crochet Christmas Gnomes and Must-Have Christmas Decor.
Santa Claus Garland Free Crochet Pattern
Adorable and beginner-friendly! Even if this is your first Christmas season as a crocheter, you can learn this pattern by Charlotte Perution and decorate your house with little Santas and tiny gifts. On top of that, you only need scraps of yarn!
Level: beginner Author: Charlotte Perution

The original pattern and the photos are on My Rainbow Crochet. More info on Ravelry.
Ginger Biscuits Crochet Garland Free Crochet Pattern
Delightfully retro! These ginger biscuits designed and crocheted by genius Anna Nikipirowicz look so realistic we can almost smell them. If you are a fan of traditional sweets and handmade crochet holiday decor, you know what to do.
Level: beginner Author: Anna Nikipirowicz

The original pattern and the photos are on West Yorkshire Spinners. The bottom photo is on Instagram.
Scrap-Buster Holiday Light Garland Free Crochet Pattern
Such a lovely decoration! For the holiday season and for all year round! Why not, right? There is always a great time to add some bright colors to your room. Grab some colorful scraps of yarn and follow the instructions by Carla D. T. Fisher.
Level: beginner Author: Carla D. T. Fisher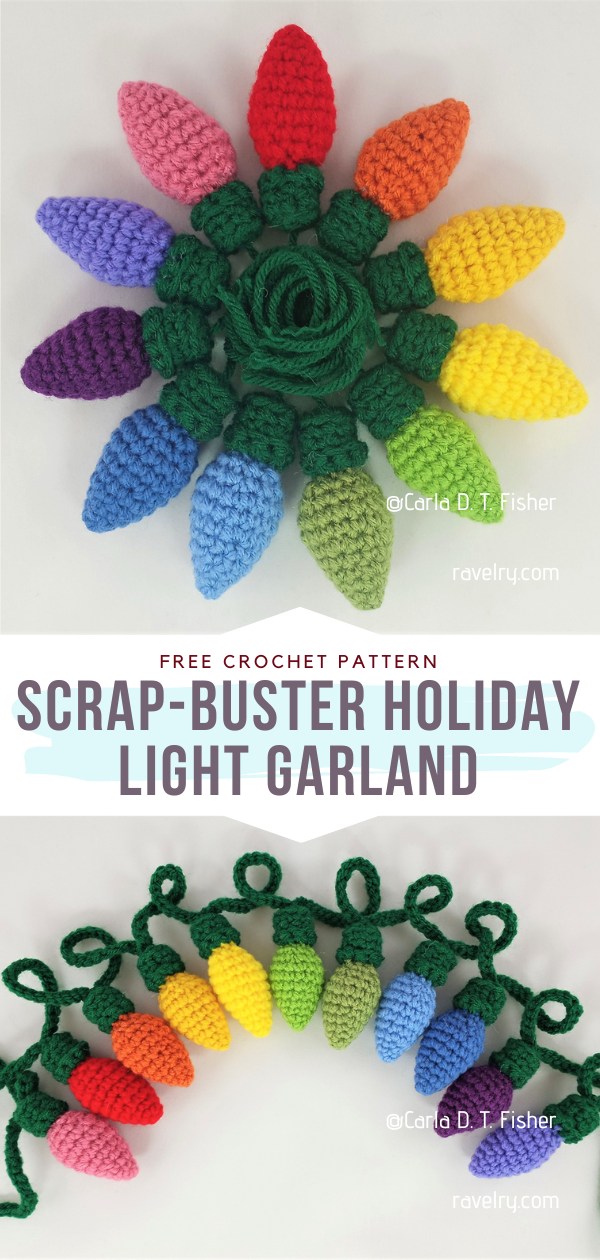 The original pattern and the photos are on Ravelry.