Tunisian Crochet Scarves with Free Patterns
Welcome, pretty people! What's up? Let's learn something new again today! We bet you've heard about this technique before. We also bet that you've been meaning to try it for some time now! Well, guess what? No more excuses! We've found awesome authors that will introduce you to the world of Tunisian crochet in the best way possible but first let's choose the best Tunisian crochet hooks. Summer is the time of lavender fields and sunsets by the ocean, right? Obviously! The patterns for Tunisian Crochet Scarves in Violets reflect that! This is why we've chosen them as examples for this post, obviously. We are sure you'll be happy with them! Their patterns are so simple and yet so cool! Check out these free patterns under the links below and follow us on Facebook Fanpage and Pinterest for more creative ideas!
If you need more inspiration, check out our collections of Shawls and Blankets.
free Tunisian crochet scarf patterns
1. Tunisian Triangle Scarf
Beginners or not, we highly recommend you all to try Raffaella's pattern. If you are intimidated by Tunisian crochet, this project is a great way to conquer your fears and doubts. Easy to follow, basic stitches only – you will mindlessly go on while watching your favorite TV show.
Level: upper beginner Author: Raffaella Tassoni

photo by Raffaella Tassoni / ravelry.com
Find this pattern on raffamusadesigns.com, or read more on ravelry.com.
2. Chilly Pom Scarf
Whip up a quick pom-pom scarf on a weekend with the help of Toni Lipsey. We absolutely love her patterns, especially the ones featuring Tunisian crochet, as she is the master of this technique. This extra-long crochet scarf uses DK-weight Hobbii Happy Place yarn, which came about as a collaboration of Hobbii and TL Yarn Crafts.
Level: upper beginner Author: Toni Lipsey

photo by Toni Lipsey / ravelry.com
Find this pattern on jdoqocy.com, or read more on ravelry.com.
3. Zig-Zag Scarf
Tunisian crochet and ripples? Yes! Please! What an impressive combination! It is easier to learn than it seems and it certainly guarantees beautiful visual effects, no matter what project you use it for. Why don't you start learning by making this pretty scarf by Richard Gartland? This yarn is so pretty! Doesn't it make you think of sunsets by the sea?
Level: intermediate Author: Richard Gartland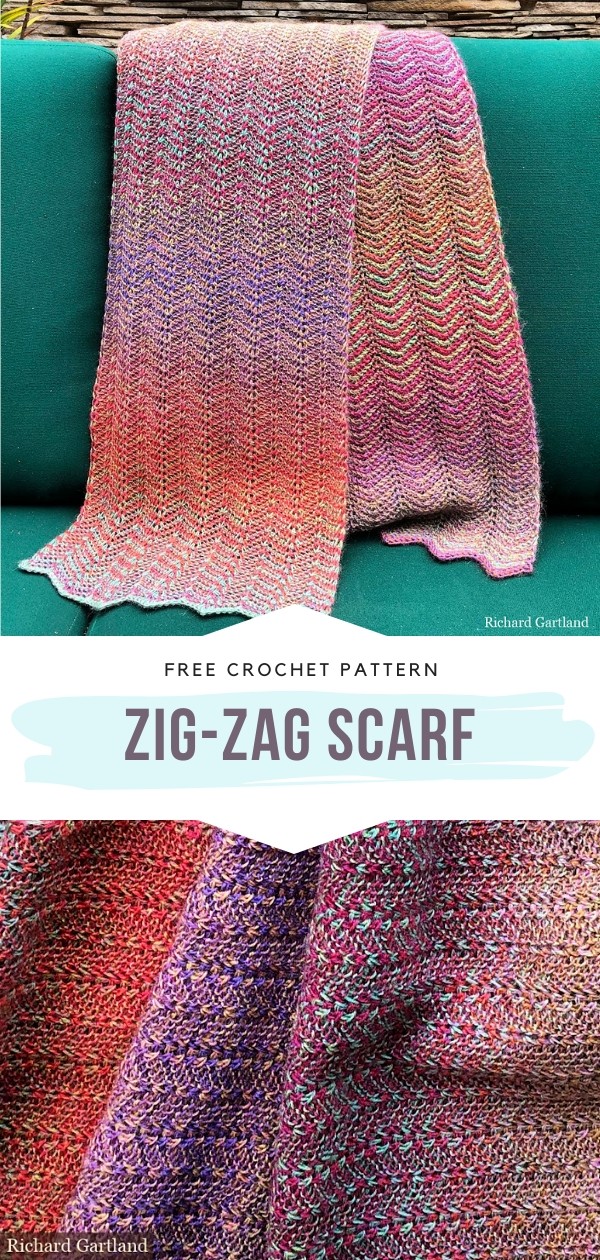 Find this pattern on ravelry.com.
4. Tunisian Simple Scarf
Are you after the perfect pattern for your first Tunisian crochet project? What a lovely coincidence! This beginner-friendly repetitive stitch is a great starting point, without a doubt. Carolyn Calderon will guide you from zero to the Tunisian technique hero!
Level: intermediate Author: Carolyn Calderon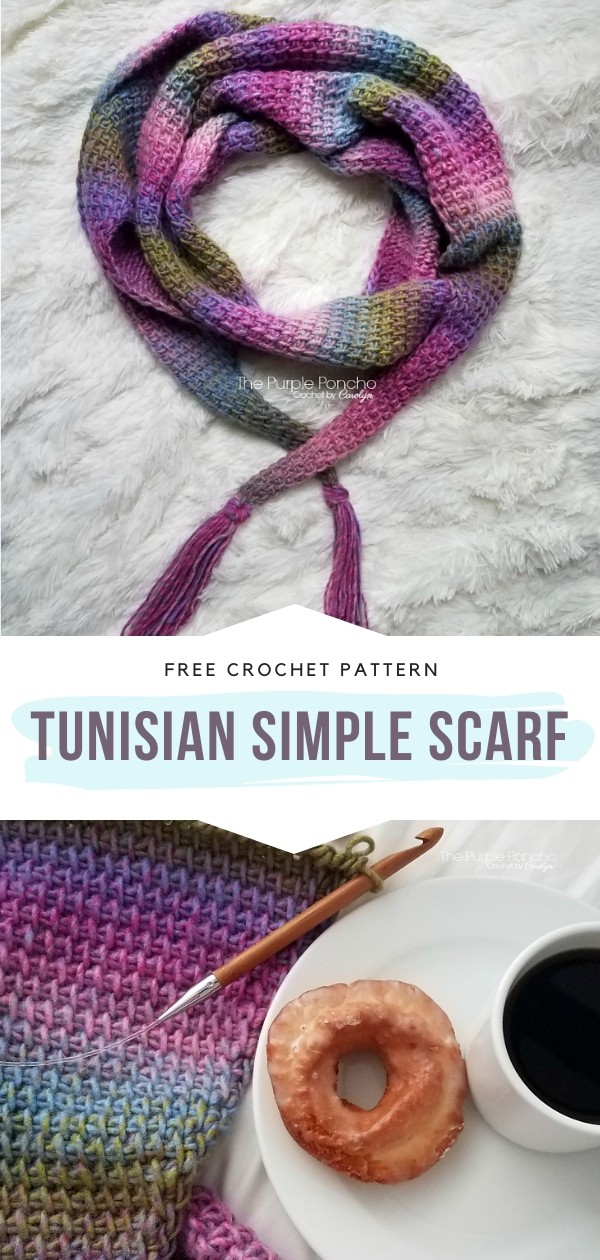 Find this pattern on thepurpleponcho.com, or read more on ravelry.com.
5. Tunisian Fade Shawl
We are thinking pink today and so is Alexandra Halsey! Follow the lead of this designer to practice Tunisian crochet and make yourself a charming accessory for autumn and winter. Remember to keep it long and stripy!
Level: intermediate Author: Alexandra Halsey

Find this pattern on withalexofficialblog.com, or read more on ravelry.com.
6. Seeing Stripes Shawl
We absolutely love seeing these stripes! How about you? If you are a fan of minimalism and original colors, this pattern by brilliant Miroslava Mihalkova will surely be a treat for you. Make the shawl before winter ends!
Level: upper beginner Author: Miroslava Mihalkova

Find this pattern at on exquisitecrochetuk.com, or read more on ravelry.com.
7. Spring Fling Knitling Tunisian Scarf
Any fans of the awesome Tunisian crochet technique here? We have great news! The brilliant author behind Heart Hook Home came up with a brand new scarf pattern. Give it a try before cold days end for good!
Level: upper beginner Author: Heart Hook Home

Find this pattern on hearthookhome.com.