Simple Chunky Cardigans – Free Knitting Patterns
Welcome, fashion followers! We have just found free knitting patterns for Simple Chunky Cardigans and we can't stop ourselves from sharing them with you! We know that summer is right around the corner, but we also are aware of one widely known fact – a warm cardigan is a must-have all year round. Especially if it is handmade and incredibly soft, right? Obviously! Find the best quality yarn and get to work on one of these exciting patterns. Check out these free patterns under the links below and follow us on Facebook and Pinterest for more creative ideas!
If you need more inspiration, check out our collections of Spring Colors Knit Tees and Simple Baby Pullovers.
Paintbox Cardigan Free Knitting Pattern
Any fans of the noble art of color blocking here? Obviously! We bet there is plenty of us everywhere! If you want to hone your skills and gain some experience in the field, knit this chunky cardigan in your favorite colors. Will you stick with pastels or go crazy? Chunky cardigans with free knitting patterns rock!
Level: upper beginner Author: Rachel Brockman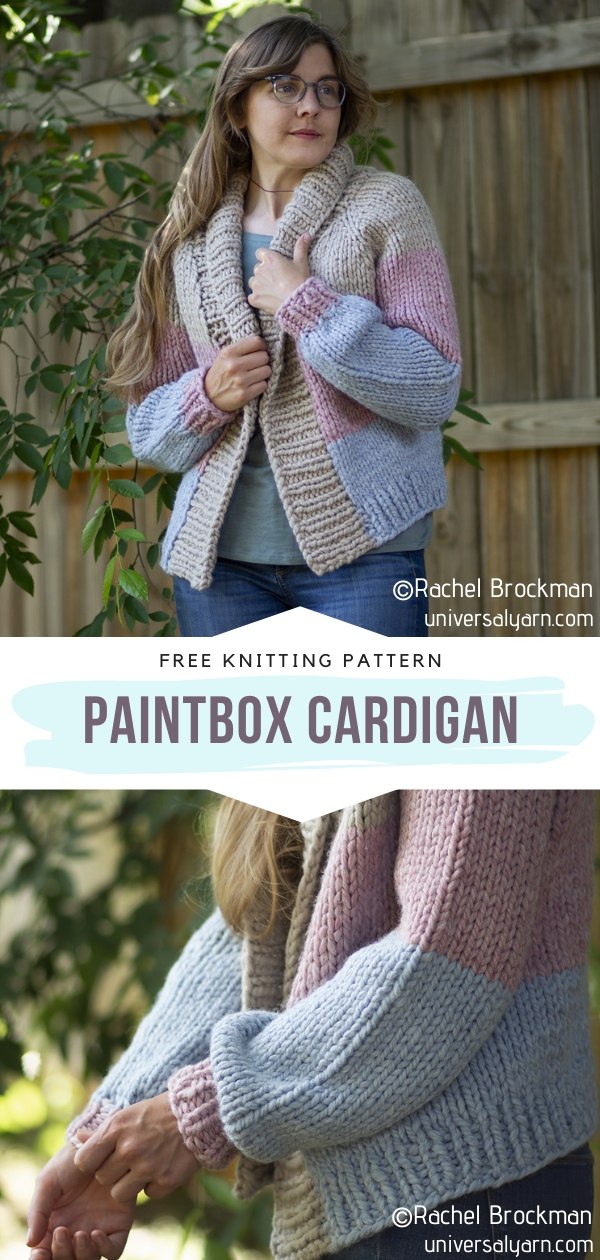 The original pattern and the photos are on Universal Yarn. More info on Ravelry.
The Downtown Cardigan Free Knitting Pattern
This garter stitch gem is so simple and yet so beautiful. We are surely into this light salmon shade. How do you feel about it? This brilliant author, the queen of adorable amigurumi, is evidently conquering the world of handmade fashion as well. We can't wait for more!
Level: beginner Author: Stephanie Jessica Lau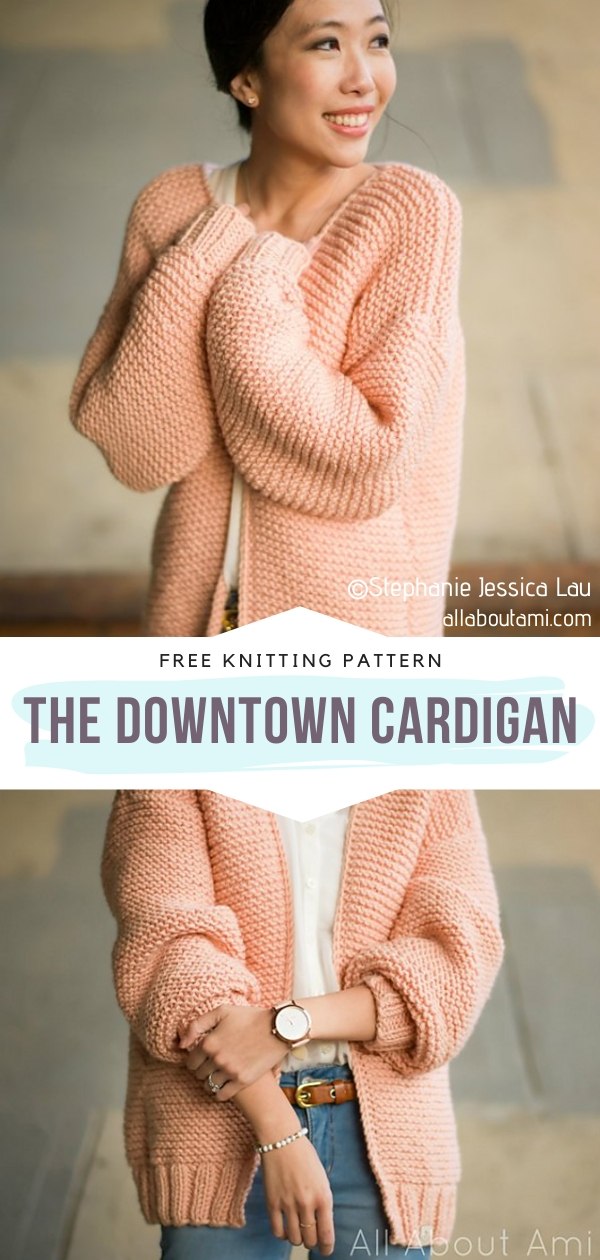 The original pattern and the photos are on All About Ami. More info on Ravelry.
Embarker Cocoon Cardigan Free Knitting Pattern
Cocoon cardigans are an awesome idea for winter, trust us! We simply can't believe that this knitting pattern for a cardigan designed by brilliant Ashley Lillis is actually great for beginners. Can you? Isn't it so chic?
Level: upper beginner Author: Ashley Lillis

The original pattern and the photos are on Ashley Lillis. More info on Ravelry.
Moonbow Slouchy Knit Cardigan
Free Knitting Pattern
Mama in a Stitch is back with another outstanding cardigan pattern! Knit it before winter ends and enjoy it during the transition period. The weather will certainly require us to keep cozy and warm! What color will you go for this time?
Level: upper beginner Author: Jessica Reeves Potasz

The original pattern and the photos are on Mama in a Stitch. More info on Ravelry.
FAQ
What kind of yarn to choose for chunky knit cardigans?
Oh, there is only one answer to this question. Actually, two. If you want to keep your cardigan chunky and delightful, go bulky or super bulky! It will feel and look fabulous. And so soft! Having wool in the blend is always nice for winter but if you have allergies, 100% acrylic will work just as well!
Are

knit cardigans

easy enough for beginners?

The ones you can see above definitely are! Simplicity is present on so many levels here – we have minimalist fashion style and beginner-firendly patterns. If you are new to knitting clothes, a chunky cardigan is a great option for you.
How to choose the right color for a chunky knit cardigan?
It all depends on what colors you like the most for autumn and winter. If you need extra energy, bold or deep shades are what you should consider. We are talking mustard yellow, burgundy or dark green. If, on the other hands, you live for sense-soothing pastels and neutrals during the cold seasons, we recommend you wrap yourself in those beiges, powder pinks and light greys.