Enchanting Crochet Feathers with Free Patterns
Welcome, yarn lovers! Are you feeling inspired recently? Or maybe you are currently out of ideas for new projects? Either way, this post is for you! Why? Well, because we are thinking outside the box today. These exemplary patterns for Crochet Feathers are certainly multiuse. Are you into decorations? Accessories? Clothes? Brilliant! You can use feathers in all of these fields. Do you already know how? We are so curious! Let's start your creative journey! You will surely have fun. Check out these free patterns under the links below and follow us on Facebook Fanpage and Pinterest for more creative ideas!
If you need more inspiration, check out our collections of Pocket Shawls and Lacy Cardigans.
Crochet Feathers Free Pattern
Simplicity, bright colors, fresh summer charm! These are the three characteristics of this project by Teenie Crochets that make us fall in love with it over and over again. The pattern is so multiuse! What will you make with it? Let us know!
Level: upper beginner Author: Teenie Crochets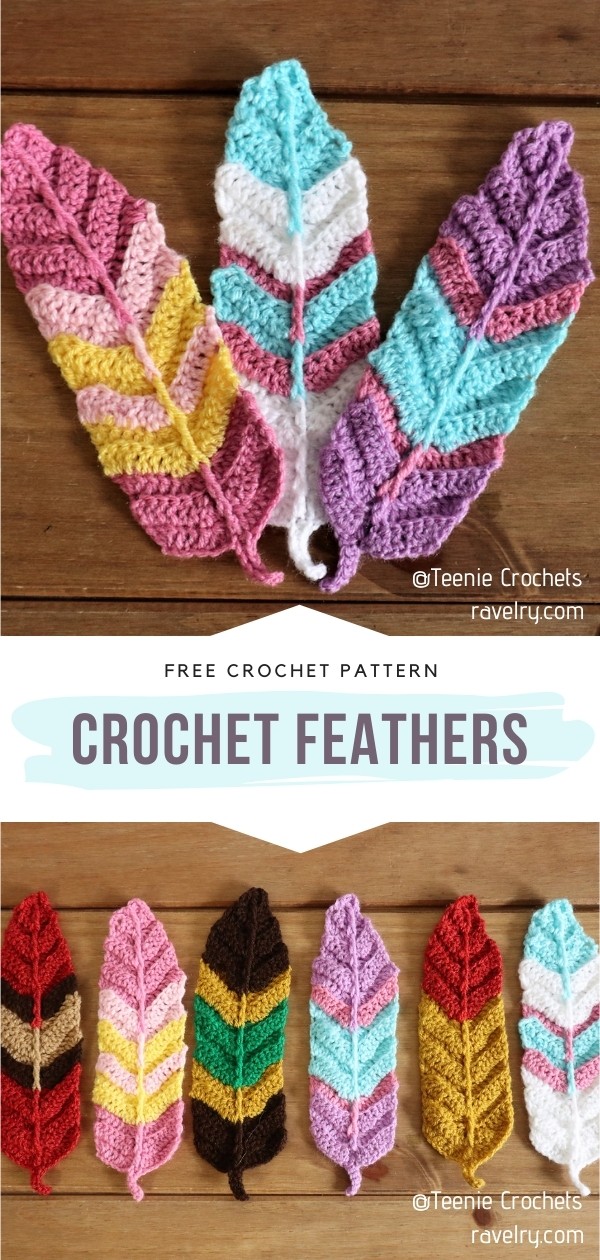 The original pattern and the photos are available on Ravelry here.
Peacock Feather & Bookmark Free Crochet Tutorial
The peacock motif is so popular among crocheters for a reason! We mean, isn't this little wonder by Naurid Kashpia Senjuti simply hypnotizing? Obviously! If you like to follow video tutorials instead of written patterns, these crochet feathers are certainly for you.
Level: upper beginner Author: Naurid Kashpia Senjuti

The video tutorial is on YouTube here. More info and the photos on Ravelry here.