I Heart Baby Blankets – Free Knitting Patterns
Knitted baby blankets should always be soft and cozy! New parents will use them in many situations. And what better way to express your love to a tiny bundle of joy than with hearts. Therefore, we would like to share ideas for I Heart Knitted Baby Blankets with you. You will surely fall in love with these patterns because they are also pretty and easy to make. Whether you're after a solid blanket or prefer a little bit of lace, these projects have great textures as well. Moreover, they will make a thoughtful and precious baby shower or baby gift, so add them to your library. Check out these free patterns under the links below and don't forget to follow us on Facebook and Pinterest for more creative ideas!
If you need more inspiration, check out our collections of Textured Knitted Blankets and Sheep Baby Blanket Ideas.
Heart Baby Blanket Free Knitting Pattern
This easy to knit blanket will surely be a great gift for baby showers or welcome parties for newborns. You can knit columns of hearts or close each heart in a garter box. Which version will you choose? Ann Saglimbene will guide you!
Level: beginner Author: Ann Saglimbene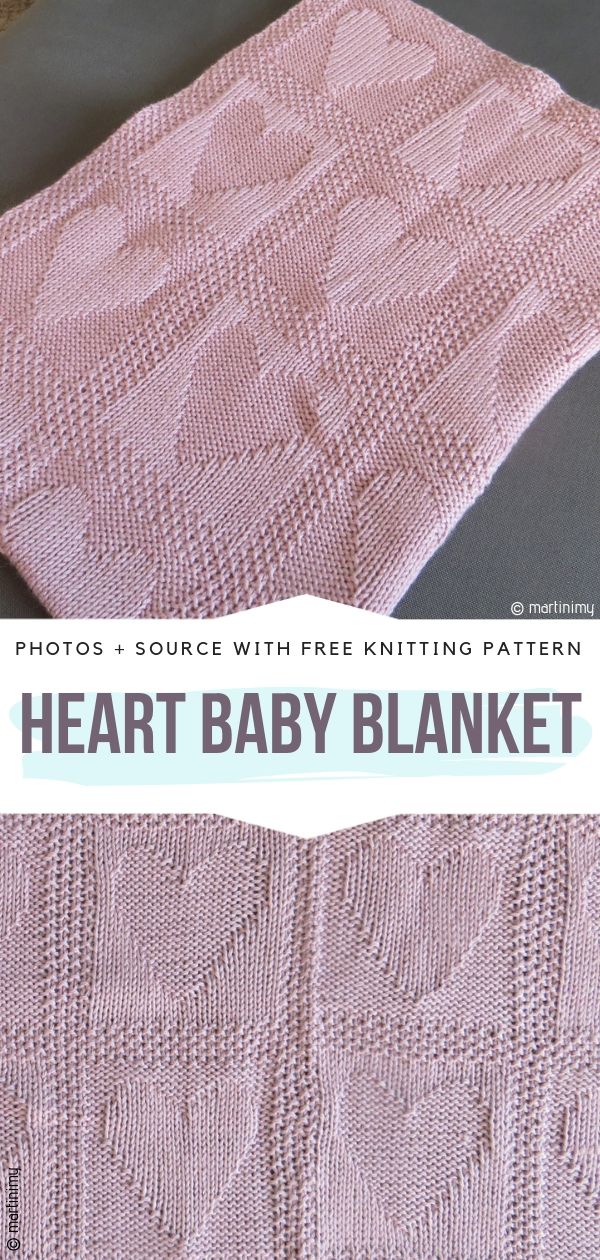 The original pattern is on Ravelry. Info about this version and the photos are on Ravelry.
Heartfelt Baby Blanket Free Knitting Pattern
This baby blanket features openwork hearts and will make a lovely accessory to a nursery. Renee Iverson really enchanted us with this sweet pattern, evidently ideal not only for nurseries but also for Valentine's Day gifts. We love knitted baby blankets like this one!
Level: intermediate Author: Renee Iverson

The original pattern and the photos are on Willow Yarns. 
Zoe Baby Blanket
Knitting Pattern
Hearts and lively colors! This is what we are all looking for this time of the year, isn't it? We are so in love with this simple pattern by Astrid Agustsson. It is absolutely charming, don't you think? How many colors of yarn do you have in your stash?
Level: upper beginner Author: Astrid Agustsson

The original pattern and the photos are on Lillelarsen. More info on Ravelry. This pattern is no longer free.