Cuddly Bunnies – Free Knitting Patterns
Soft, snuggly, friendly, adorable – these are the words that come to our minds. Or they did when we started writing this post and looked at the Cuddly Little Bunnies.
Spring is right around the corner, and these sweet furry creatures are among the most characteristic symbols of it, without a doubt. We bet your little marshmallow bunnies would love a new knitted companion to fall asleep with every night!
Knitting toys and figurines is such a relaxing hobby. And it makes all the kids in your family so happy! Adults too, if they like cuddling handmade toys from time to time.
Check out the free patterns under the links below and follow us on Facebook and Pinterest for more creative ideas!
If you need more inspiration, check out our collections of Tiny Knitted Elephants and Chunky Blankies.
Bunny Rabbit
Knitting
Pattern
This cute guy is said to be a rustic fashion icon! His outfit is so adorable we don't even know how to describe it. And we will not even mention this smiley face and tiny pink nose!
Knit Mr. Rabbit for your kids, they will certainly become best friends. And they will post it on social media immediately! You will probably need a knitted square for the outfit.
Level: upper beginner Author: Amanda Berry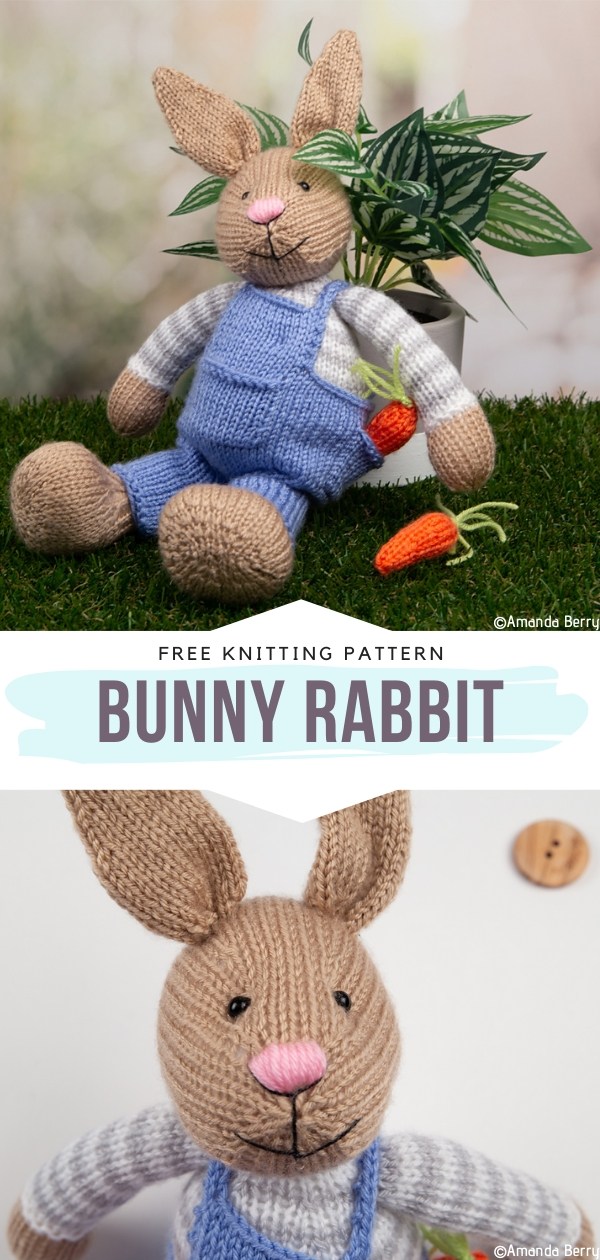 The original pattern and the photos are on Deramores. More info is on Ravelry.
Easter Bunny Free
Knitting
Pattern
Would you look at this little ball of pure cuteness? This year's Easter bunny is soft, fuzzy, and small enough to fit on your palm. He likes the company of his brothers and sisters, so make sure to knit a whole bunch of them!
They will join your family this spring step by step! Rabbits generally are very social creatures. Pet rabbits especially, at least this is what we have heard!
Level: upper beginner Author: Claire Garland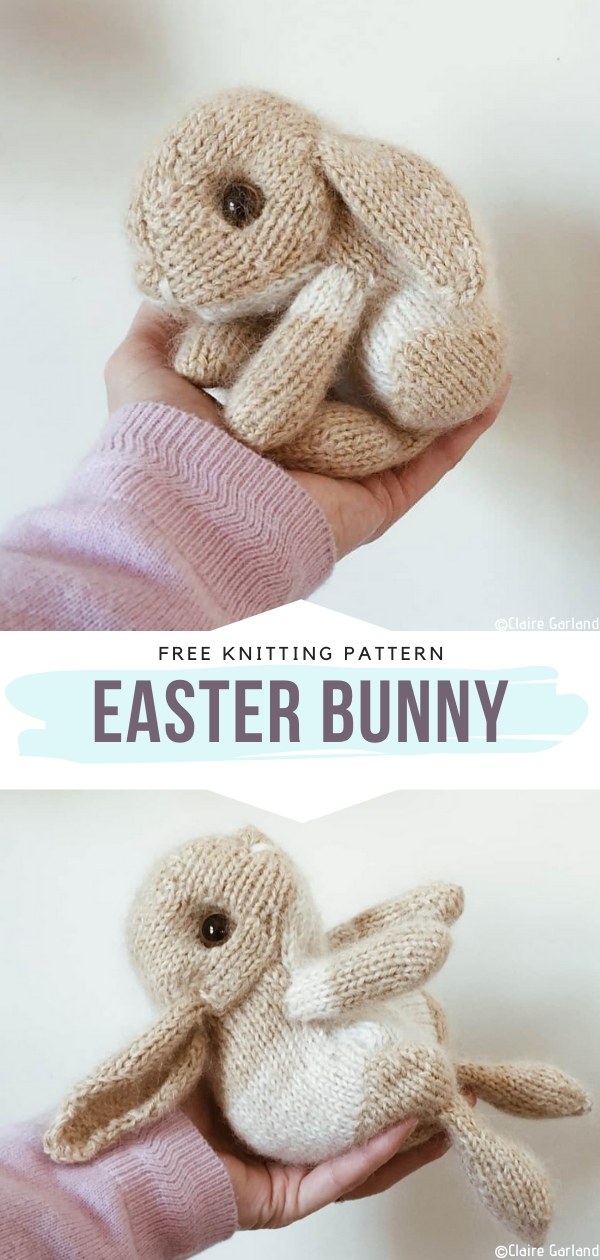 The original pattern and the photos are on From Britain with Love. More info is on Ravelry.
Marshmallow Easter Bunny Free
Knitting
Pattern
Do you want to cuddle this adorable knit bunny when you look at it?
Are you already thinking about the color you will go for with this knit stitch? We would like to advise you to not limit yourself to just one.
There is still some time left before Easter, but you can go ahead with this pattern by Clickety Sticks.
Level: beginner Author: Clickety Sticks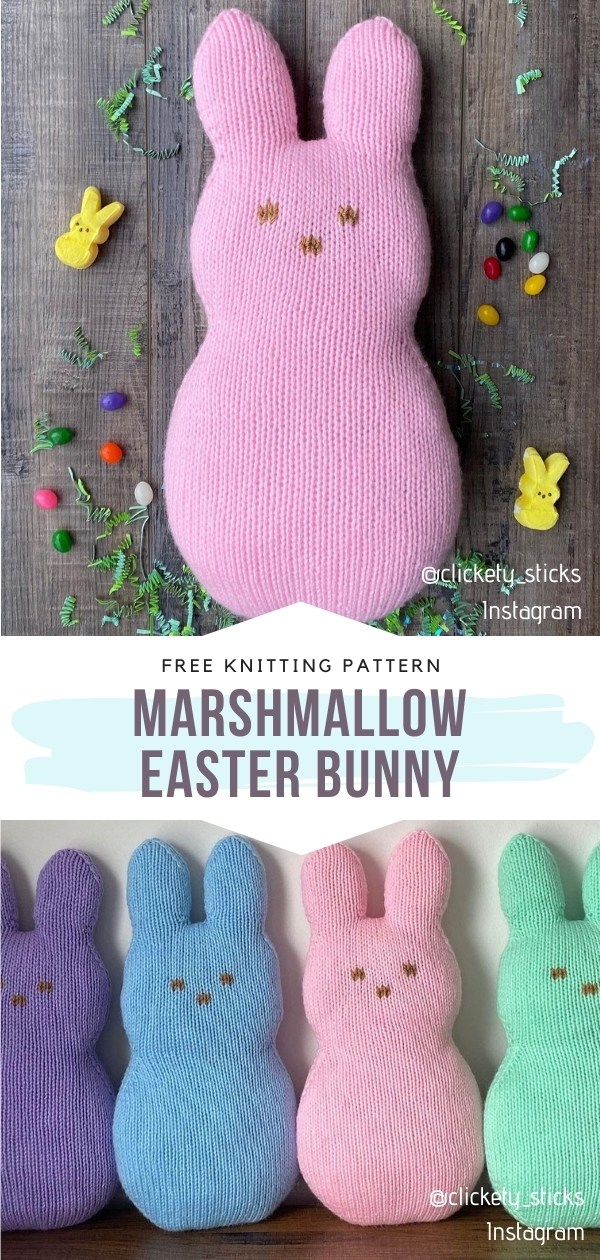 The original pattern is on Clickety Sticks. The photos are on Instagram: top and bottom.
Knitting bunnies is a fun and rewarding activity that can be enjoyed by both adults and children alike. Not only does it allow you to create cute and cuddly toys, but it also provides a great opportunity to develop your knitting skills and creativity.
To knit a bunny, you will need some basic knitting supplies, such as yarn, knitting needles, and stuffing. There are many different patterns available online and in knitting books, so you can choose one that suits your skill level and personal style.
Once you have your pattern, you can start knitting your bunny by casting on the required number of stitches and following the instructions for each section. Typically, you will knit the body, head, arms, and legs separately before assembling the pieces and stuffing the bunny.
One of the great things about knitting bunnies is that you can customize them to your liking. You can choose different colors of yarn, add embellishments like bows or buttons, or even modify the pattern to create different sizes or shapes of bunnies.
In addition to being a fun and creative activity, knitting bunnies can also be a thoughtful and personal gift for children or adults who love stuffed animals. Handmade toys have a special charm and can be cherished for years to come.
Overall, knitting bunnies is a delightful pastime that offers many benefits, from honing your knitting skills to creating lovable toys. So why not give it a try and see how much joy you can bring to yourself and others with this fun and rewarding hobby.