Beautiful Crescent Shawls – Free Knitting Patterns
Are you planning to refresh your wardrobe? Get some inspiration from this selection of knitting patterns for Beautiful Crescent Shawls then! We recommend them because the designs are truly unique! The vivid colors work for any occasion, whether you're on a beach holiday or need a smart and elegant accessory for work. These shawls have delicate and lacy designs that will surely stand out from the crowd. Moreover, they are pretty easy and also fun to make whether you're a seasoned or a beginner knitter. Consider making these beautiful shawls for yourself but also for someone you love! Check out these free patterns under the links below and don't forget to follow us on Facebook Fanpage and Pinterest for more creative ideas!
If you need more inspiration, check out our collections of Wraps and Blankets.
crescent shawl Free knitting patterns
Peruvian Knit Shawl
The crescent-shaped shawl from Lena is all about geometry and color contrasts. As you can see in the photos, neutral earthy tones work well with simple white yarn. If you're new to colorwork, this project will help you learn it. Practice tension and simple yarn switching while creating a new staple for your wardrobe.
Level: upper beginner Author: Lena Skvagerson

photo by Lena Skvagerson / ravelry.com
Find this pattern on jimmybeanswool.com, or read more on ravelry.com.
Tales of the Garden shawl
Marie-Elyse's crescent shawl knitting pattern uses simple techniques in the most sophisticated way. Thanks to the thoughtful placement of knitting stitches this design combines elegance with delicate textures. What's more, the yarn she used is stunning as well, featuring watercolor-like stains.
Level: upper beginner Author: Marie-Elyse Dugal

photo by Marie-Elyse Dugal / ravelry.com
Find this pattern on ravelry.com.
Ennui
We are absolutely enchanted by the colors of this crescent shawl! This knitting pattern by Justyna Lorkowska amazed us! The lovely shawl is full of visual interest. Not only the colors but also the patterns – stripes and waves – are so unbelievably eye-catching.
Level: upper beginner Author: Justyna Lorkowska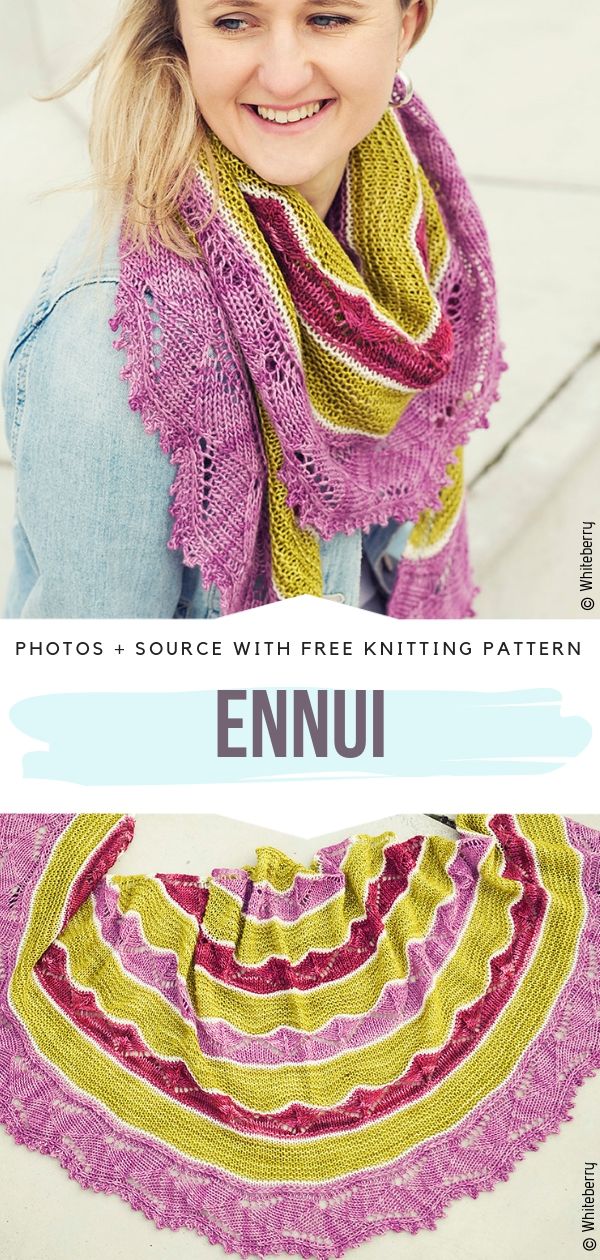 The original pattern and the photos are on Knitty. More info on Ravelry.
Stonechurch
Neutral colors and exceptional texture! This is what we love the most about this knitting pattern for a crescent shawl. The emerald accent spices up the classic grey like a dream, doesn't it? Karin Martinez is an artist!
Level: upper beginner Author: Karin Martinez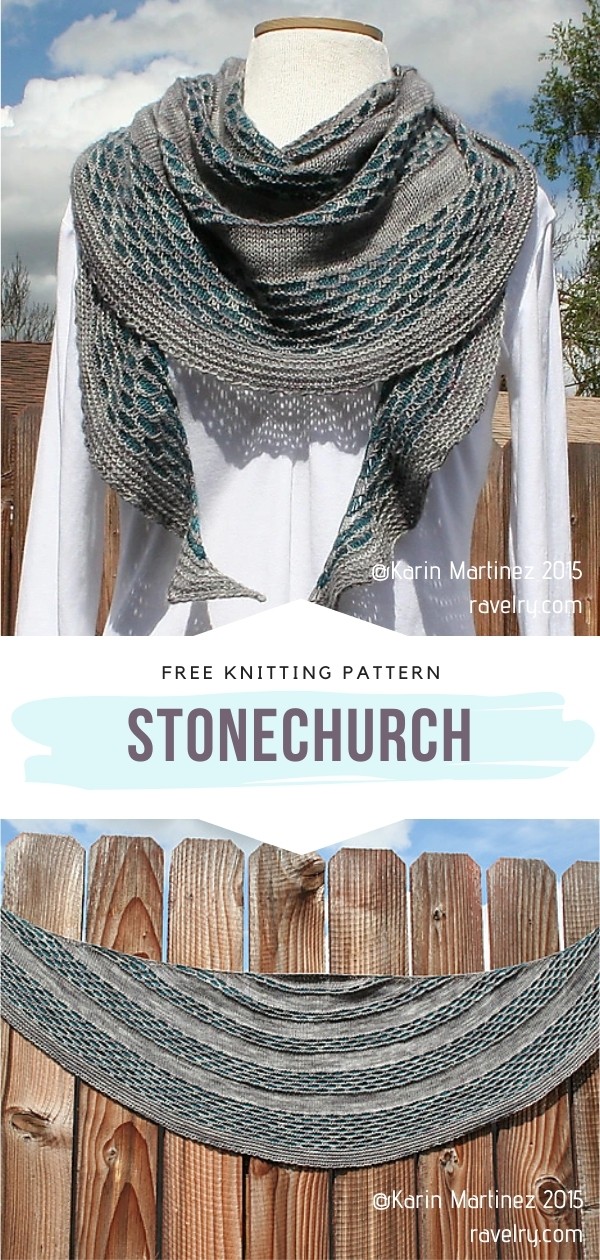 The original pattern and the photos are on Ravelry.