Fabulous Knitted Hooded Scarfs – Free Knitting Patterns
Hi there, how are you doing these days? Do you want to avoid catching a cold on these chilly winter days still ahead of us? If so, certainly take good care of yourself but also consider knitting one of these fabulous knitted hooded scarf patterns.
You will not only stay wonderfully warm but also amaze everyone with a chic handmade accessory. Already like this brilliant idea? Then make sure to dive in these beautiful patterns!
Check out the free patterns under the links below and follow us on our Facebook and Pinterest for more creative ideas!
If you need more inspiration, check out our collections of Knitted Hats and Mittens.
hooded scarf Knitting
Patterns
Hooded Scarf with Pockets
We adore this hooded scarf knitting pattern for the awesome fuzziness, softness, and most amazing combination of colors. Different shades of green and violet blend into one another here, creating such a unique mixture. This knit scarf project is truly charming, isn't it? Evidently!
Use super bulky or super chunky yarn to get that gorgeous texture. You will also need 9.00mm size needles to be able to knit it easily.
Level: intermediate Author: Lion Brand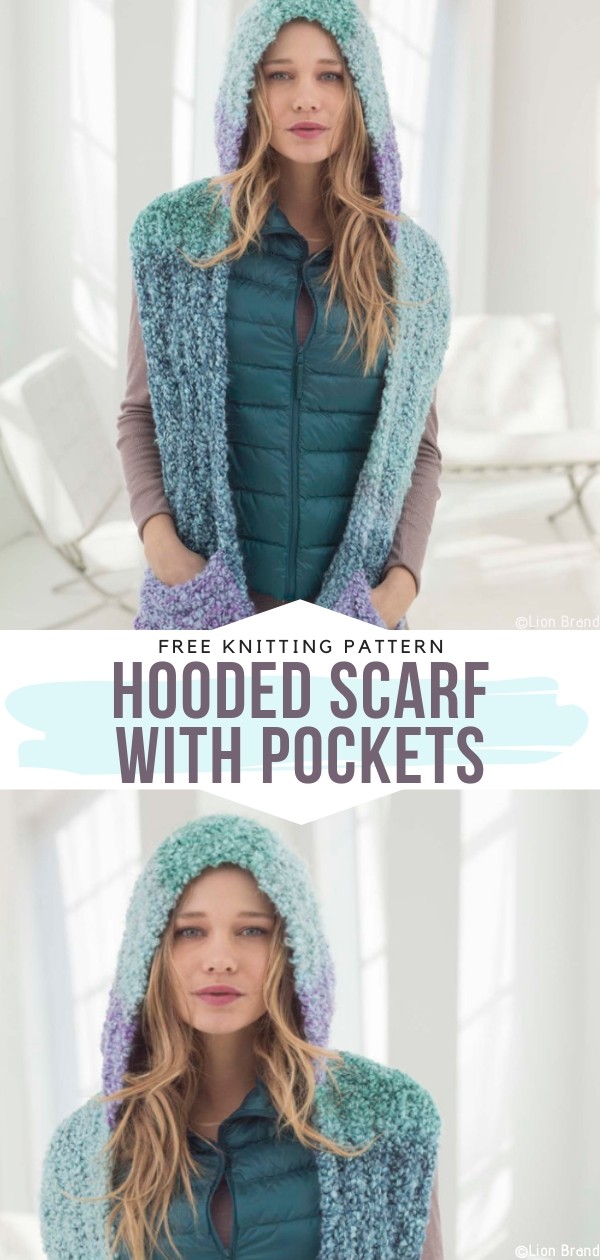 Find this pattern on lovecrafts.com, or read more on ravelry.com.
Harriet Hooded Scarf
This is such a stylish piece, the very essence of modern fashion for supergirls of all ages. This light shade of grey is perfectly minimalist. The cables and the tassels in turn spice up the whole design and make it really remarkable. Be sure to give this lovely hooded scarf knitting pattern a try!
Level: intermediate Author: Jo Allport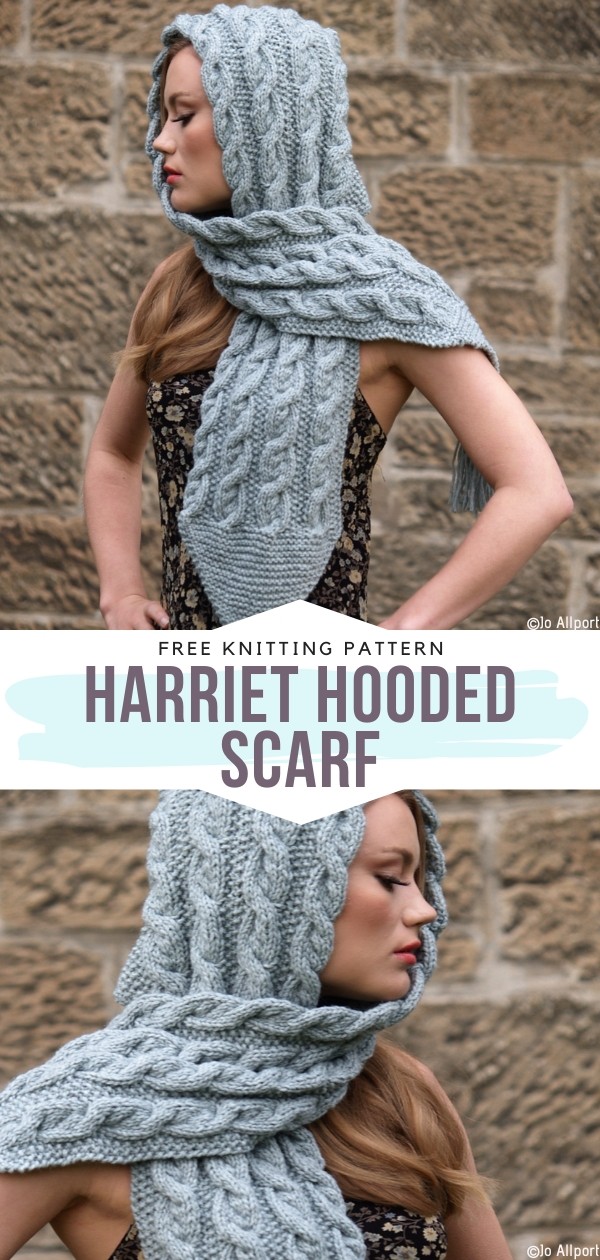 This pattern has been discontinued.
Chunky Hood
Wow, the color of this hooded scarf knitting pattern is so electric! It's so deep, fresh, energizing. A perfect pick-me-up for any day, evidently!
We all know that the patterns by Yarnspirations Design Studio are always on point, right? Obviously! Wear it under your favourite jacket or coat. It's sure to add extra warmth on cooler days.
The pattern will do for more experienced knitters with double decreases, increases and simple short rows.
What color are you going to choose for your hood? Be sure to try out at least one of them! Use super bulky yarns to make this knitted piece really rock!
Level: intermediate Author: Yarnspirations Design Studio

Find this pattern on yarnspirations.com, or read more on ravelry.com.
Rustic Cables Hooded Scarf
This is such an original pattern! Jennifer Turmel really surprised us with her creativity and knitting skills.
With these instructions at hand, you can surely make something truly spectacular. Use a panel of garter stitch to create that gorgeous hood. Can you already feel ideas flowing because we surely do! Let's go knit this wonderful project!
Level: intermediate Author: Jennifer Turmel

Find this pattern on ravelry.com.