Crescent Shawls – Free Knitting Patterns
Crescent Shawls are certainly among the most ambitious knitting patterns of this season! Are you ready to start a new exciting project and make yourself an accessory everyone will fall in love with? Obviously! The patterns we have found are written by real experts whose instructions you can trust blindly, without a doubt! What colors will your crescent shawls be this spring? Check out these free patterns under the links below and follow us on our Facebook and Pinterest for more creative ideas!
If you need more inspiration, check out our collections of Feminine Shawls and Enchanting Shawls.
Bird of Paradise Free Knitting Pattern
Mother nature always provides us with the most amazing ideas and inspirations, right? Obviously! This shawl certainly proves that! Do these wonderful shades of violet and green make your heart beat faster? We feel it already! This author's work is a true gem among crescent shawls knitting patterns.
Level: intermediate Author: Rebecca Podgorski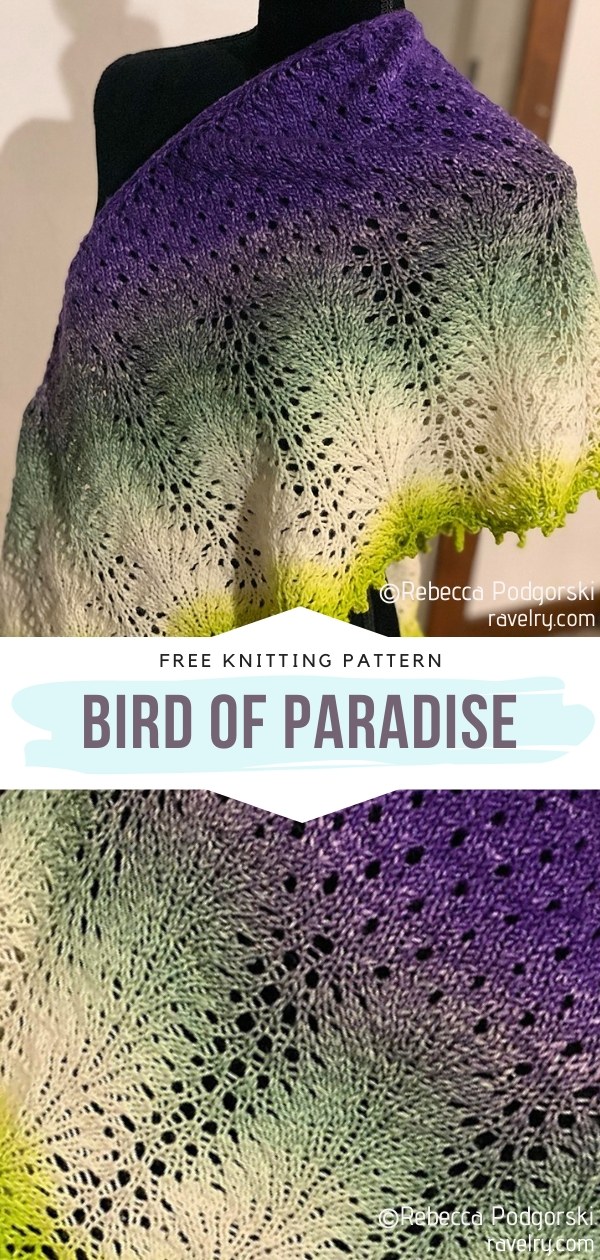 The original pattern and the photos are on Ravelry.
Mooncat Shawl Free Knitting Pattern
Are you familiar with garter and eyelet stitches? If you are, we have great news for you! You can easily make yourself this stunning crescent shawl for spring. How lovely is that? All you need is the right color of yarn and a nice idea for an edging! Will you follow in this awesome designer's footsteps or get creative? The effect will be so beautiful either way!
Level: upper beginner Author: Kelly McClure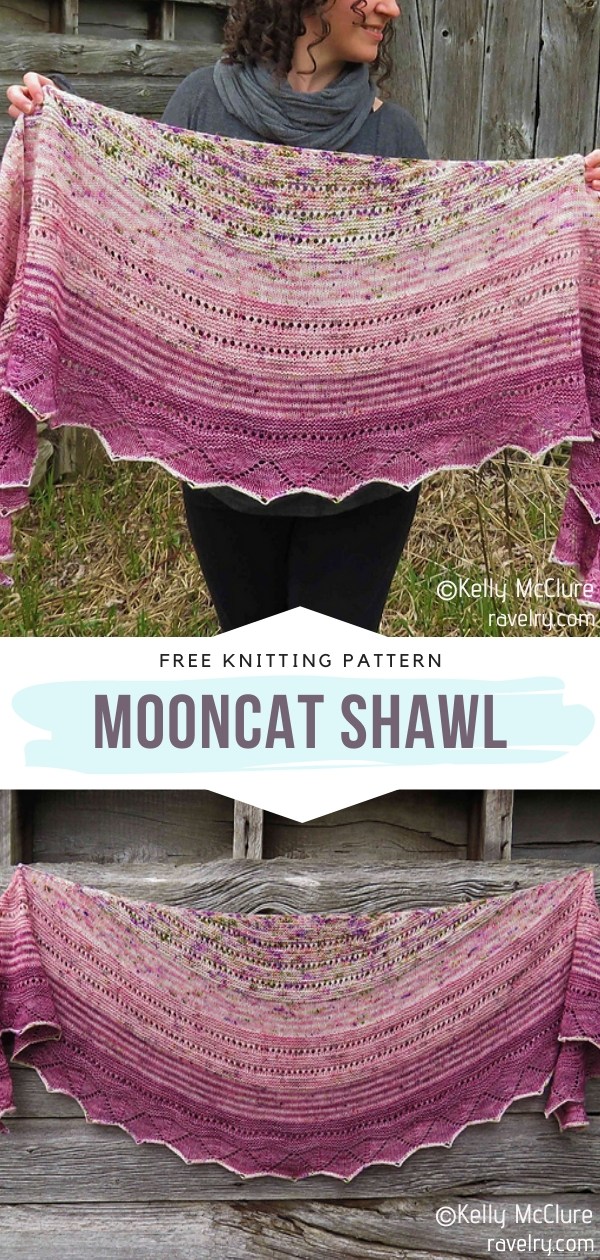 The original pattern and the photos are on Ravelry.
Tree Peonies
Free Knitting Pattern
This knitted shawl is so elegant! We love the spectacular floral motif, obviously, but also this deep burgundy shade with a hint of violet. It is so trendy this time of the year! Are you ready for a new challenge? Follow the instructions by Denise Bartels!
Level: intermediate Author: Denise Bartels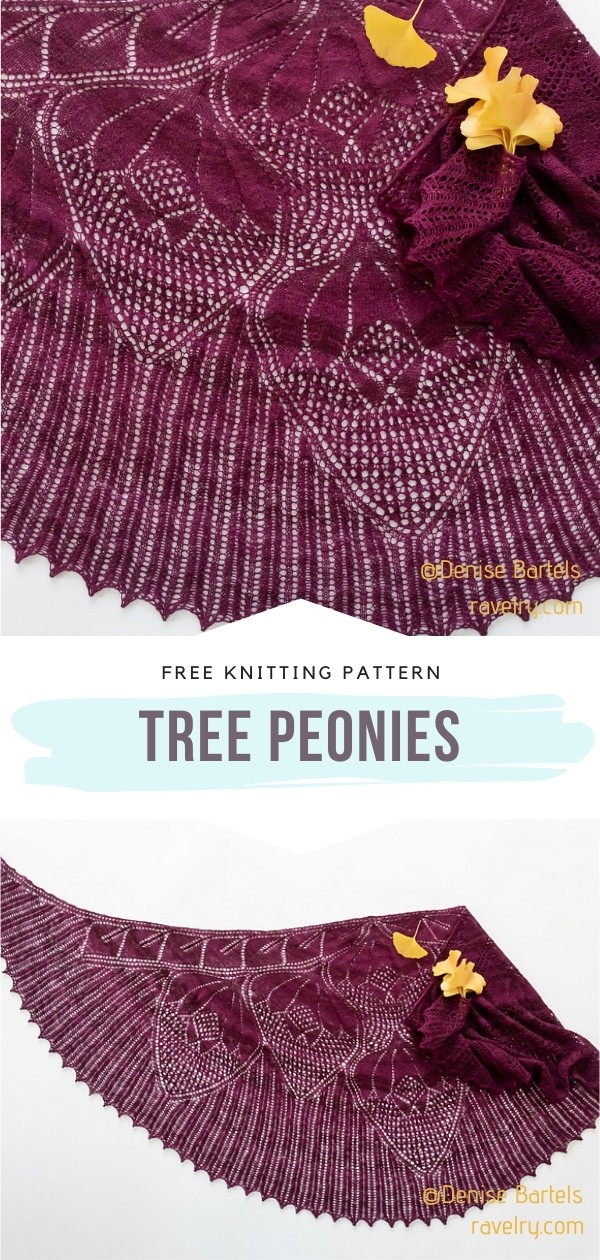 The original pattern and the photos are on Ravelry.
Quintet
Knitting Pattern
Violet is among our favorite colors for winter, without a doubt! We love it, especially when it's mixed with other shades in an interesting multicolor yarn. Exactly like this one! Lisa Doherty has fabulous taste, that's for sure!
Level: intermediate Author: Lisa Doherty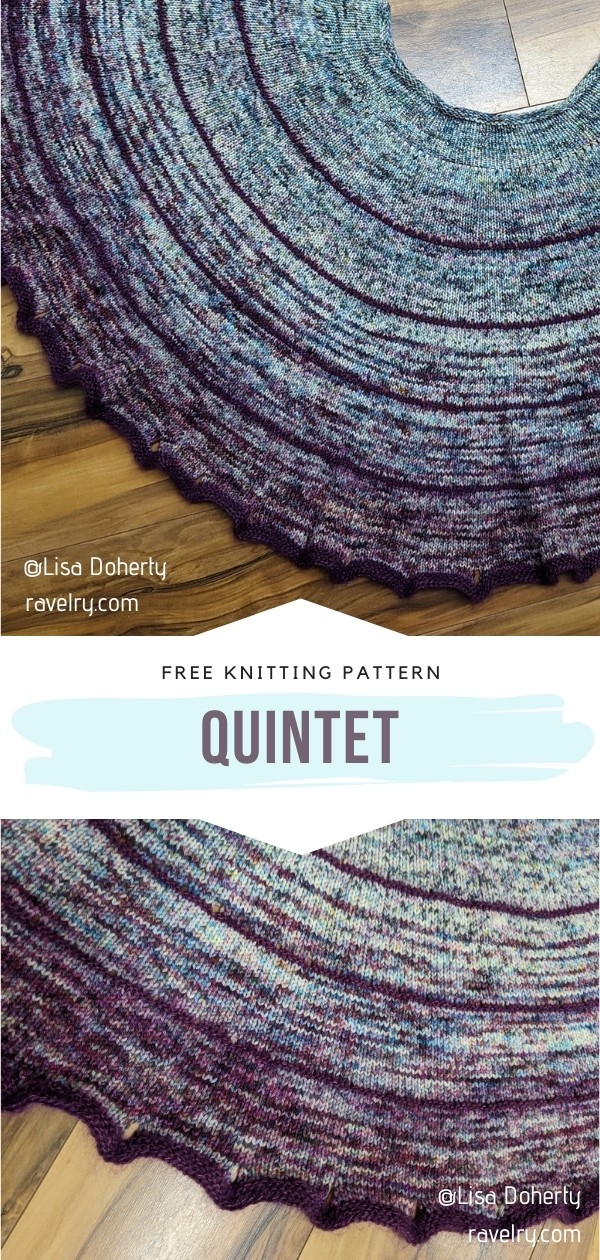 The original pattern and the photos are on Ravelry. This pattern is no longer free.