Charming Baby Cardigans – Free Knitting Patterns
Free knitting patterns for baby cardigans are here for you, lovely people! Cardigans are so comfy thanks to button closures. They pair nicely with jeans as well as formal outfits, therefore they are the perfect addition to little ones' wardrobes. These classic designs are suitable for both boys and girls because you can easily customize them with colors you like. In addition, you can also decorate them with cute details such as fruit motifs or textured cables. These Charming Baby Cardigans are stylish and warm so you can be sure that your baby is dressed for all occasions. Moreover, they will also make a thoughtful and cute baby gift. Check out these free patterns under the links below and don't forget to follow us on Facebook and Pinterest for more creative ideas!
If you need more inspiration, check out our collections of Sweet Knitted Baby Cardigans and Knitted Pumpkin Pullovers.
Baby Boy's Raglan Cardigans Knitting Pattern
This adorable cardigan not only has a beautiful texture but is also easy to knit. Pastel shades look great and you can definitely make it for a boy as well as for a girl.
Level: upper beginner Author: Sirdar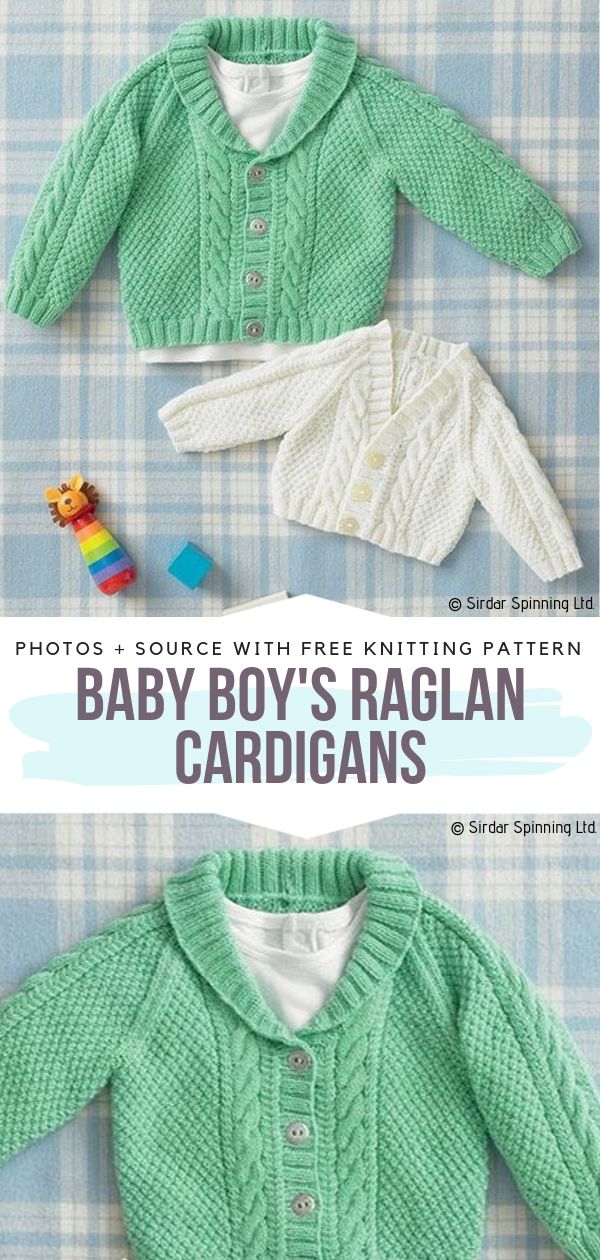 The original pattern and the photos are on Deramores. More info on Ravelry. This pattern was free for a limited time only!
Five A Day Cardigan Free Knitting Pattern
Fruit motifs are certainly a cute decor element to incorporate into free knitting patterns for baby cardigans. This one designed by Yarnspirations Design Studio will keep your child warm and stylish whatever the occasion.
Level: intermediate Author: Yarnspirations Design Studio

The original pattern and the photos are on Yarnspirations. More info on Ravelry.