Decorative Hanging Baskets – Free Crochet Patterns
Do we have any passionate homemakers here? We know how dedicated you are to making the world a prettier place. With this in mind, we've decided to help you with your mission. These beautiful crochet hanging basket patterns will certainly help you make it happen!
Having come upon these brilliant authors and their work, we couldn't resist sharing their precious sources of inspiration with you. The exemplary patterns for Decorative Hanging Baskets we've found are really stunning. We're sure they will get you in the mood to finally start working on the indoor garden you've been dreaming about. Well, we're already very excited and you?
Check out these free patterns under the links below and follow us on Facebook and Pinterest for more creative ideas!
If you need more inspiration, check out our collections of Organizing Ideas and Bulky Yarn Basket.
Hanging Basket Free Crochet Pattern Ideas
Teardrop Hanging Basket
These lacy teardrops have conquered our crochet-loving hearts! Imagine them hanging on the wall in your room. It makes for a truly beautiful vision, would you agree?
Moira Durano-Abesmo went for neutrals and warm colors of the earth. And what shades would you choose for this wonderful project?
Level: upper beginner Author: Moira Durano-Abesmo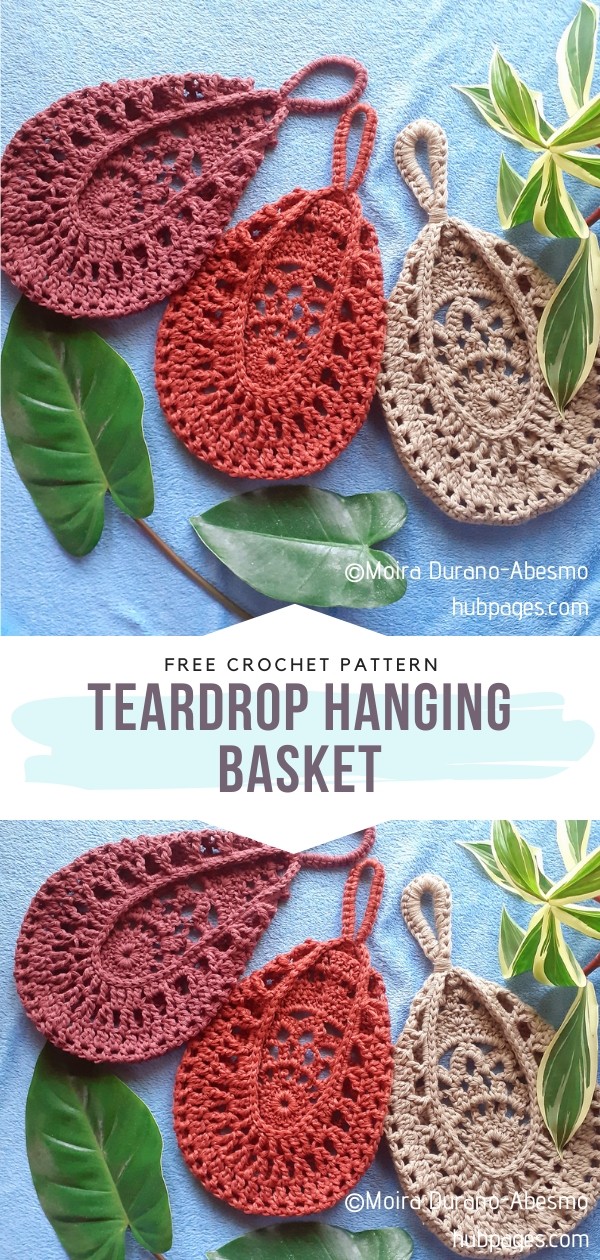 Find this pattern on hubpages.com, or read more on ravelry.com.
Fleur Hanging Basket
The minimalist vibe and adorable roundness! These are the things we love the most about this hanging crochet basket. Mel Harrison certainly loves modern designs just as we do, right?
Do you have plants to put in this handmade wonder? We bet more than one comes to your mind. Make a set of baskets in different colors and enjoy the view!
Level: upper beginner Author: Mel Harrison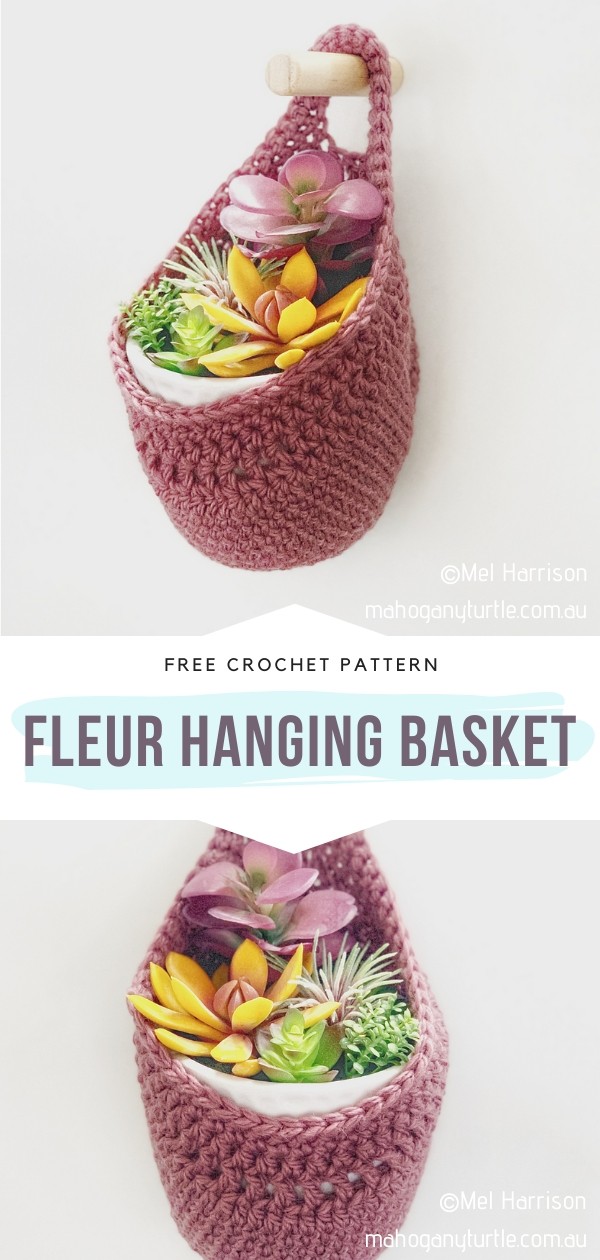 Find this pattern on ravelry.com.
Hartfield Hanging Baskets
Who doesn't love original handmade home decor? No doubt we all enjoy beautiful things! Especially this time of the year.
If you are in the mood for redecorating, you have come to the right place. Jessica Underwood's patterns are so cool!
Level: upper beginner Author: Jessica Underwood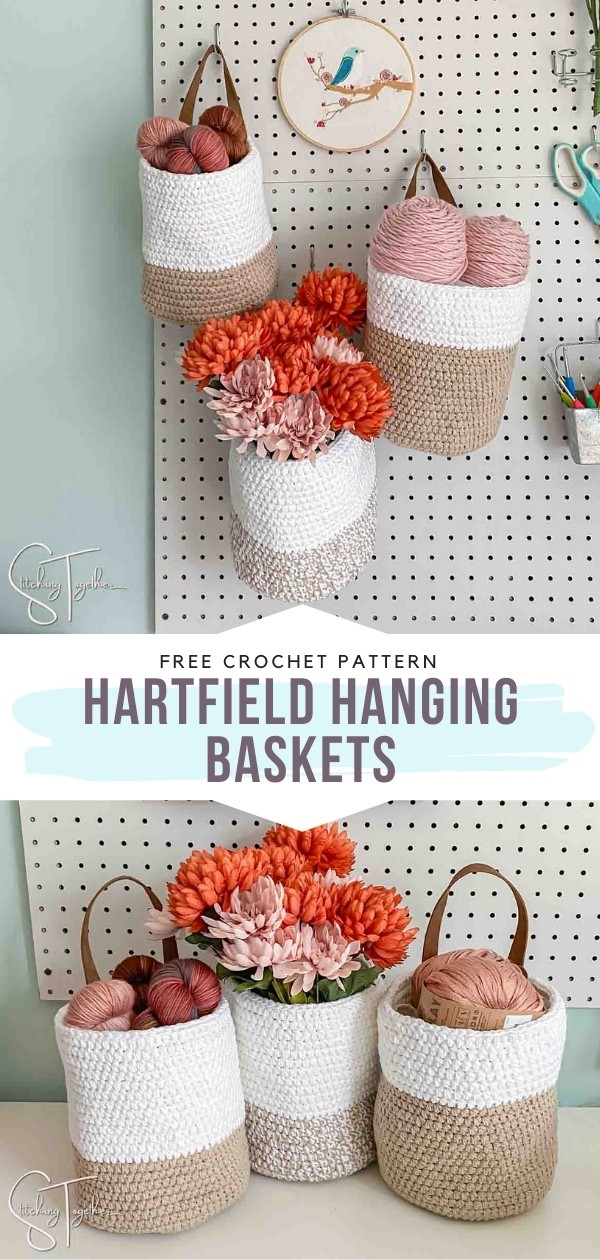 Find this pattern on stitching-together.com, or read more on ravelry.com.
Suzette Double Hanging Basket
This wonderful crochet project makes such an awesome accessory! Any plant lover with a taste for home decor? If so, you are probably already searching for the right yarn for this crochet pattern by Gootie (Agat Rottman). Do you already see your favorite plants in this wonder?
Level: upper beginner Author: Gootie (Agat Rottman)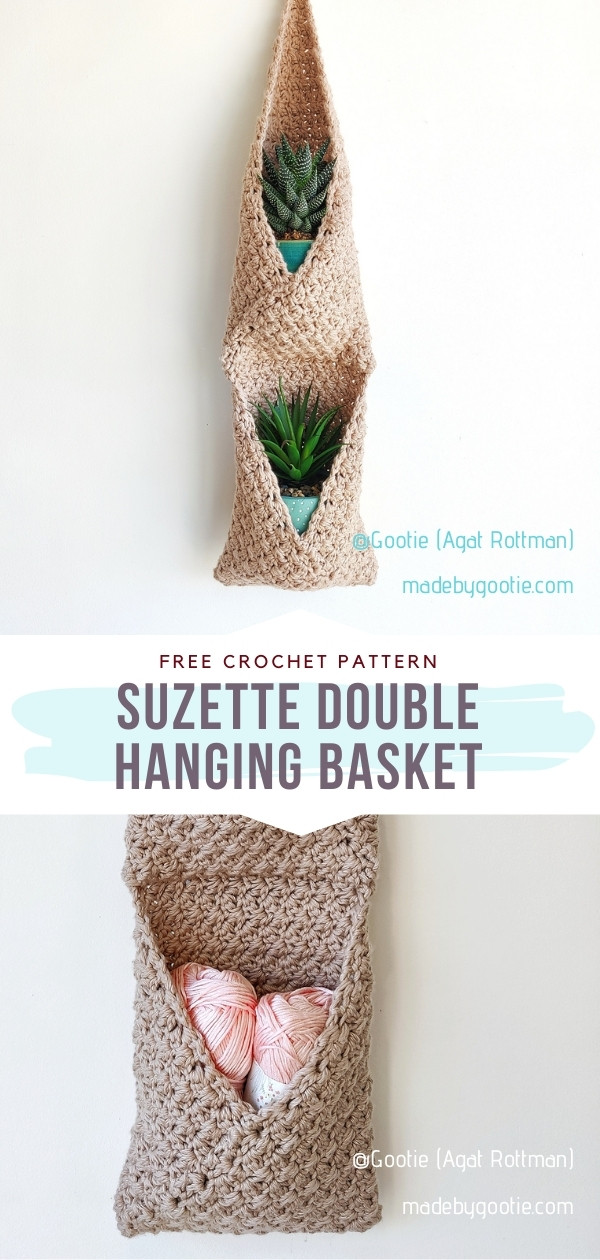 Find this pattern on madebygootie.com, or read more on ravelry.com.
Hanging Garden
Transform your wall into a wonderful garden! Sounds like a difficult idea to deliver? Not at all, or at least not with this outstanding design!
With this crochet pattern for decorative, macrame-inspired plant hangers, you will surely surprise yourself. Time to pick the colors!
Level: upper beginner Author: Brenda K.B. Anderson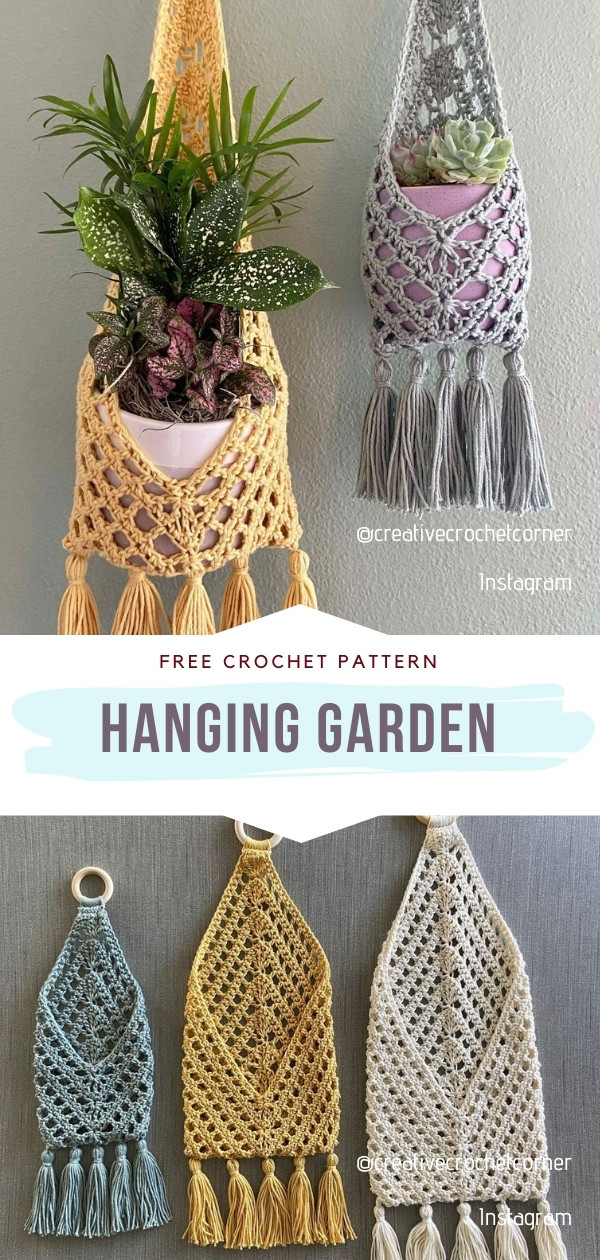 Find this pattern on go.creativecrochetcorner.com. The photos are on Instagram: top and bottom.
FAQ
What kind of yarn do you use to crochet a hanging basket?
As we place plants in hanging baskets, we want their structure to be strong and sturdy. Thinner types of yarn are not suitable for this type of project. Such a basket would be too soft and flimsy to hold the items we place in it.
Therefore, crocheters usually use cotton or t-shirt yarn to make it, as these are very thick and strong. What is more, these types of yarn make crochet hanging baskets very easy to wash as well.
are crochet hanging basket patterns for beginners?
It all depends on how complex the pattern is. However, most of the designs we have collected here are easy to make. Those who have just started crocheting and have mastered the basics should find them easy to tackle.
Most of these projects feature a beginner-friendly set of stitches, including single and double stitch, chain stitch and slip stitch. If you already know all of them, you can start right away with one of these beautiful crochet pieces.
Each pattern includes clear instructions from the author. Follow them step by step to make sure that you will handle every stage of the project.